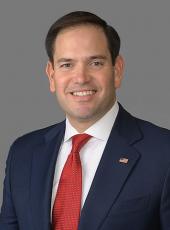 Rubio Campaign Press Release - Here's What It's Like to Go Through a Day as a Marco Rubio Volunteer in Iowa
Hey everybody, my name is Anna. I've been volunteering with the Marco Rubio campaign since August.

I'm a student at Drake University, in Des Moines, Iowa, smack dab in the middle of the state.

Here's what a day on the trail is like for me.
DECEMBER 30, 2015
Marco's just kicked off his bus tour with Trey Gowdy, so we've got a big day ahead of us here in Iowa.  But before I do anything, I'm going to need a cup of coffee. 6 AM is just a little too early to function without it.

Now that I have some caffeine in me, we're heading to Marco's event down in Pella, which is just southeast of Des Moines.

Lots of people want to meet Marco, so we have to be organized at these events. Eventbrite, which you've used if you've RSVPed to a Marco event before, makes life a little easier for all of us.

Also, clipboards. Lots and lots of clipboards.
Everybody who shows up has to sign in — we need to know how to keep in contact with them, keep them updated on Marco, and ask them to commit to caucus for him.
Time to watch Marco speak! Still gives me goosebumps. Every. Single. Time.

Once he's done speaking, it's time to get those Caucus commits. You wouldn't believe how many people walk in undecided and walk out Marco supporters, and we've gotta get them all signed up.

Once, the response was so positive we ran out of official commit to caucus cards — that happened in Davenport the other night:
Good night for .@marcorubio in Davenport....ran out of commit to caucus cards...moved to clipboards #Marcomentum pic.twitter.com/IJjsHBEl6h

— Jack Whitver (@jackwhitver) January 19, 2016
Now that the event is over, we're heading back to Iowa HQ outside of Des Moines.  Look who we ran into on the road — the Marcomobile!

Back at HQ, it's time to grind.

First up: some phone calls.
Not the most glamorous task, but it's incredibly important. We've recruited some of our best volunteers from these phone calls.

A bit later in the day, it's time to start knocking on some doors for Marco.

Knock knock! A New American Century is at your door!

After a few hours knocking on doors, that's it for the day.  As you can see, volunteering for Marco can be a lot of hard work, but it's all totally worth it.  
I mean — I get to hang out with the next President.
Marco Rubio, Rubio Campaign Press Release - Here's What It's Like to Go Through a Day as a Marco Rubio Volunteer in Iowa Online by Gerhard Peters and John T. Woolley, The American Presidency Project https://www.presidency.ucsb.edu/node/325813