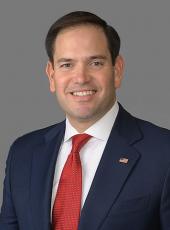 Rubio Campaign Press Release - Get the Facts about Marco Rubio's Pro-Traditional Marriage Record
Marco's desperate opponents are misrepresenting his record on marriage and family issues. It's a common trend from his opponents: circulating falsehoods and misrepresentations to mislead voters about Marco's commitment to causes he believes in deeply.
Marco has fought for traditional marriage, opposes judicial attempts to redefine it, and believes Americans who agree with him should be respected, not persecuted.
Here are the facts:
Marco believes that marriage is the union of one man and one woman, and that the traditional family is the fundamental building block of society.
Marco knows the Constitution leaves the regulation of marriage to the states. When the Supreme Court forced a false understanding of marriage on all 50 states in 2015, Marco opposed it, saying:
People who disagree with the traditional definition of marriage have the right to change their state laws. That is the right of our people, not the right of the unelected judges or justices of the Supreme Court. This decision short-circuits the political process that has been underway on the state level for years.
Marco will appoint judges to the Supreme Court, and lower federal courts, who believe that the federal government should not be able to impose its view on the states, and believes that is the right way to restore states' ability to make this decision democratically.
Marco has been awarded the top honor and a 100 percent rating from Family Research Council Action in recognition of his record on traditional marriage and other issues.
Marco has fought as a Senator for the rights of Americans to practice their traditional beliefs, including with regard to marriage. He has:
Championed the First Amendment Defense Act, which protects religious institutions from vindictive government officials revoking their tax status and forbids discrimination against traditional churches and civil-society groups in federal grant-giving.
Voted against new federal laws that would prevent nonprofits and employers applying their religious beliefs to hiring practices.
Spoke out in favor of state laws protecting the fundamental right to freely practice one's religion.
Worked to stop the federal government from punishing supporters of traditional marriage.
Led the Congressional effort to reverse the Obama administration's unconstitutional, anti-conscience HHS Mandate, authoring the Religious Freedom Restoration Act of 2012.
Marco Rubio, Rubio Campaign Press Release - Get the Facts about Marco Rubio's Pro-Traditional Marriage Record Online by Gerhard Peters and John T. Woolley, The American Presidency Project https://www.presidency.ucsb.edu/node/326056