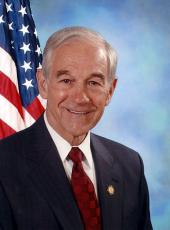 Ron Paul Campaign Press Release - 'Youth for Ron Paul' Nevada Kickoff Rally Coming to UNLV
Silver State supporters will get opportunity to shine
LAKE JACKSON, Texas — 2012 Republican Presidential candidate Ron Paul will address University of Nevada, Las Vegas (UNLV) supporters and community members at a special youth-oriented event held on the university's campus.
The event, which is free and open to supporters of all ages, will be held at UNLV's Thomas & Mack Center, in The Board Room, on Wednesday, October 19th. Doors will be open to the public at 11:30 a.m. To enter 15 minutes early, RSVP for the UNLV event featuring Dr. Paul at http://www.ronpaul2012.com/.
"This is the first Youth for Ron Paul event in Nevada, and we're excited to bring Ron Paul's message directly to the UNLV students who support him so passionately. Young people are going to make the difference in the 2012 election, and Ron Paul is by far the most popular candidate among students in the GOP field. Thousands of young supporters have already joined his campaign and will work day and night to elect him," said Edward King, National Youth Coordinator for the Ron Paul 2012 Presidential Campaign.
"Young people understand that, unlike their parents, they won't have a job waiting for them after they graduate in today's economy. President Obama's bailouts to big corporations have done nothing for small businesses or the middle class, which means fewer jobs for recent graduates. Students understand Ron Paul is the only candidate who will change Washington," said Mr. King.
Youth for Ron Paul (YFP), an initiative of the Ron Paul 2012 Presidential Campaign, launched on Wednesday, September 7th, and since its inception more than 7,100 people signed up to join the campaign and get involved, forming more than 100 chapters.
The UNLV event is the second major YFP event, taking place two days prior to a planned visit to the University of Iowa. Last month, Dr. Paul spoke to a crowd of more than 1,300 Louisiana State University students, supporters, and community members in Baton Rouge prior to the grand opening of his Louisiana campaign headquarters.
"I cannot wait for the most principled Republican Presidential candidate — Ron Paul — to speak at UNLV. Ron Paul has upheld our Constitution throughout his entire career and has consistently advocated free-market solutions to the problems created by our ever-expanding government. Younger voters know that Dr. Paul wants and is working for the best for the future of America, and that is why we support him," said Peter Tariche, the Youth for Ron Paul Western Regional Director.
To learn more and sign up for Youth for Ron Paul, please visit: www.youthforpaul.com and "like" the Facebook page found at: www.Facebook.com/youthforpaul.
Ron Paul, Ron Paul Campaign Press Release - 'Youth for Ron Paul' Nevada Kickoff Rally Coming to UNLV Online by Gerhard Peters and John T. Woolley, The American Presidency Project https://www.presidency.ucsb.edu/node/299113