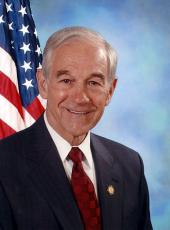 Ron Paul Campaign Press Release - Two Buena Vista Area Tea Party Co-Founders Endorse Ron Paul
Activists Ken Hach and Jim Treat prefer Paul
ANKENY, Iowa — The Ron Paul 2012 Presidential campaign announced today that Congressman Paul was endorsed by two co-founders of the Buena Vista Tea Party Patriots.
"I support Ron Paul for President of the United States because his 'Plan to Restore America' includes specific goals to stop wasteful spending by $1 trillion the first year, balance the budget in three years, and return the country to Constitutional government. His years of service in Washington have proven his integrity and strength of character in dealing with foreign policy as well as internal issues," said Ken Hach.
"Of the people I have talked with, their primary concerns are jobs and the economy. Based on the points I mentioned earlier, both situations would improve greatly under a Ron Paul presidency," added Mr. Hach.
Mr. Hach, a retired school administrator, is also owner of Wind on Rails, Inc. and currently serves on the Buena Vista board of county supervisors. He has been in the wind farming business for 33 years.
"Our country is on a precipice of disaster if we do not have a change of leadership in Washington. My decision to join the Ron Paul 2012 Campaign was because Dr. Paul is a patriotic American with common sense. Ron Paul believes in the sanctity of life, the family as the bedrock of society, a strong national defense, and to fight to win when at war. He will return America to the precepts on which our forefathers birthed the greatest country that history has ever recorded and ensure it is governed in accordance with the Constitution," said Jim Treat.
Mr. Treat has been an active member of the Buena Vista County Republican Party for three decades, and proudly served in the U.S. Army.
The BV Tea Party Patriots formed in 2009 and is comprised of people who believe in the United States and its founding ideals as expressed in the Constitution, Declaration of Independence, and the Emancipation Proclamation. It is a community of people who also believe in the American dream: life, liberty, and the pursuit of happiness. They believe that being an American is an honor, as well as a great responsibility.
The endorsement occurred on the day Ron Paul's son, U.S. Senator Rand Paul (R-KY), argued on several cable news and radio shows that one of Ron Paul's competitors for the GOP nomination, Newt Gingrich, is unworthy of tea party support. Senator Paul's Des Moines Register op-ed arguing the same point, published today, can be read here.
Ron Paul, Ron Paul Campaign Press Release - Two Buena Vista Area Tea Party Co-Founders Endorse Ron Paul Online by Gerhard Peters and John T. Woolley, The American Presidency Project https://www.presidency.ucsb.edu/node/299313