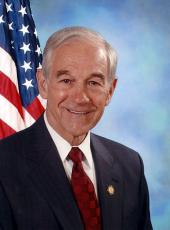 Ron Paul Campaign Press Release - Ron Paul Wins Cedar Valley Tea Party Presidential Straw Poll
Paul wins local contest within Black Hawk County
ANKENY, Iowa — 2012 Republican Presidential candidate Ron Paul won another local tea party presidential straw poll in Iowa tonight, outshining his competitors in a display of growing organizational strength around the state.
Paul easily won first place, garnering 37 out of the total 60 votes cast in the inaugural Cedar Valley Tea Party presidential straw poll. Placing second and third place, respectively, were Rick Santorum with 9 votes and Newt Gingrich with 5 votes.
Voting took place in-person only at 7:00 p.m., with results announced at around 8:00 p.m. at the PIPAC Center, 1521 Technology Parkway, Cedar Falls, where the organization meets the second Tuesday of each month from 6:30 to 8:00 p.m.
All candidates currently competing for the Republican nomination were listed on the ballot. Greg Radke, Black Hawk County co-chair and Waterloo city coordinator for the Ron Paul 2012 campaign, spoke as Dr. Paul's surrogate. Gingrich was the only other candidate represented by a surrogate.
The Cedar Valley Tea Party was formed in early 2009 with a mission to "convey meaningful conservative change at the local, state, and national levels by educating, motivating and informing the citizens of Iowa about relevant social and political issues affecting them today and in the future," according to the organization's website.
"We're pleased to have the support of many Iowans who identify with the tea party, as Ron Paul's message of constitutionally-limited government resonates quite well among this core group of citizen activists. The results of this contest and others like it contribute to our goal of a strong top-three finish," said Ron Paul 2012 Iowa Chairman Drew Ivers.
This local win follows Ron Paul's endorsement by two Buena Vista-area tea party co-founders, his endorsement bytwo Dubuque-area tea party founders, and his winning first place in the Dubuque Tea Party presidential straw poll.
Full results of the Cedar Valley Tea Party presidential straw poll are as follows:
Paul 37

Santorum 9

Gingrich 5

Bachmann 3

Huntsman 3

Romney 2

Perry 1
Ron Paul, Ron Paul Campaign Press Release - Ron Paul Wins Cedar Valley Tea Party Presidential Straw Poll Online by Gerhard Peters and John T. Woolley, The American Presidency Project https://www.presidency.ucsb.edu/node/299392