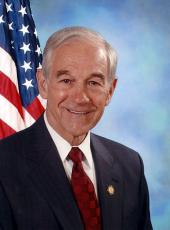 Ron Paul Campaign Press Release - Ron Paul Polls Strong v Obama in Relation to Paul's Competitors
Survey shows Dr. Paul popular among broad, conventional voting base
LAKE JACKSON, Texas — 2012 Republican Presidential candidate Ron Paul polls strong against incumbent President Barack Obama in a general election matchup, according to a new CNN / ORC poll has Ron Paul.
Poll highlights include Paul besting Obama 47 to 46 percent among those 65 years and older, said to be the most reliable voters. Paul also beats Obama among whites 51 to 46 percent, persons who reside in rural areas 52 to 44 percent, and independents by 48 to 47 percent.
When compared to other Republican presidential hopefuls in a general election matchup against Obama, Paul does best among the following population segments: males; persons ages 18 to 34; persons under 50 years of age; persons earning less than $50k per year; persons who have attended college; crossover Democrats; self-identified liberals; self-described moderates; residents of the Northeast and Midwest geographic regions; and those residing in urban areas. Noteworthy as well is that Paul fares better than all of his GOP competitors against Obama among non-whites — garnering a solid 25 percent, or one in four non-white adults.
"This poll further debunks the establishment-created myth about Ron Paul's electability and shows an expanding base of support," said Ron Paul 2012 National Campaign Chairman Jesse Benton. "Americans of all stripes are tired of the status quo Washington insider games, and are looking for someone who represents real change. Congressman Paul is that candidate."
ORC International surveyed 1,015 adult Americans via telephone from December 16th to the 18th. The margin of error for this total sample is +/- 3.0 percentage points. Total sample includes 928 registered voters, with the margin of error for this group also +/- 3.0 percentage points. Error margins for micro-targeting can range much higher.
For CNN coverage of the poll, please click here. For the full poll results including tables and methodology, please click here.
Ron Paul, Ron Paul Campaign Press Release - Ron Paul Polls Strong v Obama in Relation to Paul's Competitors Online by Gerhard Peters and John T. Woolley, The American Presidency Project https://www.presidency.ucsb.edu/node/299122