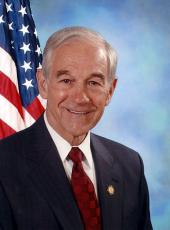 Ron Paul Campaign Press Release - Ron Paul Iowa Team Welcomes New 'Homeschoolers for Ron Paul' Members
Featured families reside in Clarke and Polk counties
ANKENY, Iowa — The Ron Paul 2012 Presidential campaign announced today the latest families to join the "Homeschoolers for Ron Paul" nationwide coalition.
In statements below, family representatives express their support for the 12-term Congressman from Texas, characterizing him as a champion of education freedom and Christian principles.
With four girls and four boys, the Charles family of Murray has been homeschooling for over 12 years. Christopher Charles offered the following statement:
"Raising our children up 'in the nurture and admonition of the Lord' is a Biblical command we take very seriously. This command is the primary reason why my wife and I homeschool our eight children. Ron Paul's flawless record in Congress on issues of individual freedoms is one of the many reasons we strongly support Dr. Paul for President of the United States. Without the guarantee of freedom that Ron Paul staunchly defends, our freedom to homeschool our children faces great uncertainty."
Bob and Janie Toomey of Runnels are proud parents of four children spanning ages 10 to 18 years of age and have been teaching their children since birth. The parents wrote, "Supporting Ron Paul for president is a matter of staying consistent with our homeschooling principles, such as the freedom to teach our children our religious beliefs, which in turn affect our daily life choices."
"Supporting Ron Paul is supporting healthy economic freedom and personal responsibility. Lastly, supporting Ron Paul is standing alongside a fellow Constitutionalist who understands what is at stake for this country, ourselves, and our posterity," added Mr. and Mrs. Toomey.
Summarizing her support, six-year home educator Michelle Brookhart of Windsor Heights said, "As a Christian and homeschooling mother of six, Ron Paul supports all the things I could have ever hoped for in a presidential candidate: peace, freedom, protection of life, and support for home education. While the other candidates seem to just say what they think people want to hear to get elected, Dr. Paul is standing up for what he believes in and has a plan to get our nation back on its feet. My children are so near and dear to me, so I have a vested interest in their future. With Ron Paul, I finally feel this future can be a bright one."
Those interested in joining the active "Homeschoolers for Ron Paul" nationwide coalition are encouraged to visit the official page by clicking here. Those residing in the Hawkeye State should email Iowa Voter Outreach Director Meghann Walker at meghannw@ronpaul2012.com for more information about how to join.
Ron Paul, Ron Paul Campaign Press Release - Ron Paul Iowa Team Welcomes New 'Homeschoolers for Ron Paul' Members Online by Gerhard Peters and John T. Woolley, The American Presidency Project https://www.presidency.ucsb.edu/node/299320