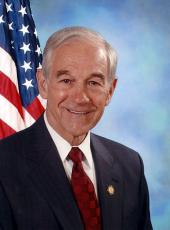 Ron Paul Campaign Press Release - Ron Paul Iowa Team Welcomes Additional 'Homeschoolers for Ron Paul' Members
Latest families who value education choice reside in Polk, Kossuth and Pottawattamie counties
ANKENY, Iowa — The Ron Paul 2012 Presidential campaign welcomed new additions to its already-substantial "Homeschoolers for Ron Paul" nationwide coalition. The new additions hail from Polk, Kossuth, and Pottawattamie counties, all Iowa.
The continued growth and geographic diversity establishes Ron Paul as a candidate with strong support among Iowa's homeschooling families and organizations. Furthermore, it illustrates that Dr. Paul might receive tangible support for his principled positions on education freedom, as the 12-term Congressman from Texas seeks a strong top-three showing in the January 3rd Iowa Caucus.
A smattering of the latest "Homeschoolers for Ron Paul" members have stepped forward with the following public statements of support:
Maria Maher of Ankeny is a mother of nine children ages four to 26 years of age. After the passing of her husband, she goes the extra mile to continue her 18-year tradition of homeschooling her children but sees it as welcome effort.
"The government is constantly stripping parents of basic rights, assuming these rights as their own. I treasure my freedom to do what is right and my liberty to teach my children virtue. I don't want some governmental agency telling me or my children what is right and wrong, as this has always been up to the parents," said Ms. Maher.
She continued, "Ron Paul's principles are thoroughly Christian, as he is the stalwart defender of peace through strength and treating our neighbors with respect, not contempt. We need to let him awaken in us a sense of citizenship in the most traditional way, the constitutional way, the way our founding fathers laid it all out then and for future generations."
Proud mother of two and grandmother of eight Wanda Burdick has been in the homeschool movement since 1984. The Burdick family has operated Teenworks, a tutoring assistance service that for about three decades has helped homeschool students learn from a Christian worldview. It was featured in the Globe Gazette here and here.
"Having been involved with homeschooling since 1984, we appreciate the freedom to choose to homeschool. Ron Paul supports that freedom and many other freedoms that we enjoy. Dr. Paul believes that the federal government does not have the authority to intercede with children, acting against the wishes of parents when it comes to medical care, education, and other aspects of raising children," said Mrs. Burdick of Wesley.
Wrapping up this rollout are homeschoolers Steve and Cindy Anders of Council Bluffs, offering the following words of support:
"My family supports Ron Paul for President because of his well established, long record of strict constructionist interpretation of the Constitution. Ron Paul believes in limited government and knows parents have the God-given right to educate their children, not the government. Dr. Paul is the only candidate that can defeat Obama and bring our government and economy back down to the level the founding fathers intended," the Anders couple wrote.
Mr. Anders' support was showcased by The New York Times in a recent article detailing the extensive support Ron Paul receives from many voting segments.
Those interested in joining the active "Homeschoolers for Ron Paul" nationwide coalition are encouraged to visit the official page by clicking here. Those residing in the Hawkeye State should email Iowa Voter Outreach Director Meghann Walker at meghannw@ronpaul2012.com for more information about how to join.
Ron Paul, Ron Paul Campaign Press Release - Ron Paul Iowa Team Welcomes Additional 'Homeschoolers for Ron Paul' Members Online by Gerhard Peters and John T. Woolley, The American Presidency Project https://www.presidency.ucsb.edu/node/299361