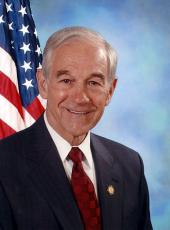 Ron Paul Campaign Press Release - Ron Paul Iowa Team Touts New 'Small Businesses for Ron Paul'
Latest Main Street owner-operators are based in Dallas, Davis, Polk and Story counties
ANKENY, Iowa — The Ron Paul 2012 Presidential campaign announced today new members of its active 'Small Businesses for Ron Paul' nationwide coalition. New members hail from Dallas, Davis, Polk, and Story counties, all Iowa.

Below are the statements of new coalition members who agree with Dr. Paul's position that restoring free markets is the best way to revitalize Main Street and encourage job creation.
Monty Button, who has owned Adel Tree Company for 21 years, employs several persons and says of the 12-term Congressman from Texas, "I have been very impressed with Ron Paul's consistently conservative voting record. He is a true statesman, a rarity today, closely resembling the caliber of the founders and their original intent. America needs the constitutional leadership Ron Paul offers."
Since 2003, Mark Davenport has operated Davencorp Welding & Fabrication, a company that serves the Bloomfield area and employs 21 people. He said, "I feel Ron Paul has demonstrated foresight in what is required to cure our economy and other issues that ail our country. Dr. Paul appears adeptly immune to the 'political correctness' that has plagued our nation for too many years."
"Ron Paul's many years as a lawmaker has forged the temper of a man needed to make and carry through with the difficult tasks that will be essential of our next President. As a nation, we need to regain our post as not only an economic leader, but one of global integrity," added Mr. Davenport.
LaFleur Chiropractic owner Ben LaFleur has been in business for four years and employs two persons. He stated, "I have become very concerned with our current economic status and the overall future of the United States. As more and more people become unemployed and uninsured, we have arrived at a place where the priorities of government have become skewed. We need a president that speaks for the people and represents the principles this country was built on. His name is Ron Paul, and he is the answer for the 2012 presidential election."
Eric Riedinger has owned his sign business 'Attention Signs' for several years. He offered his take on the congressman's readiness to make the tough but necessary decision: "Ron Paul realizes our need to get realistic with our debt issues. He is willing to take bold steps to turn things around for our country. Dr. Paul will straighten this country out and get us back on track."
Ryan Kirk, owner of an Ames-area IT business startup explains, "As an entrepreneurial individual, I feel like small businesses already have enough hoops to jump through. What's worse is that the number of hoops seems to increase every year as new laws and policies are created to the benefit of large companies, thwarting competition. Ron Paul promises change for America that is more than just acquiescent lip service. As a small business owner, I support Ron Paul because of his clear foresight on issues such as reducing big government, reigning in the Federal Reserve, Right-to-Work, and pro growth tax reform."
As a first basic step, those interested in joining the "Small Businesses for Ron Paul" nationwide coalition should visit the official page here. Those residing in Iowa should email Iowa Voter Outreach Director Meghann Walker atmeghannw@ronpaul2012.com.
Ron Paul, Ron Paul Campaign Press Release - Ron Paul Iowa Team Touts New 'Small Businesses for Ron Paul' Online by Gerhard Peters and John T. Woolley, The American Presidency Project https://www.presidency.ucsb.edu/node/299366