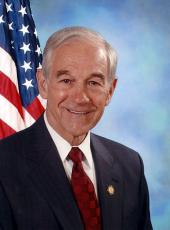 Ron Paul Campaign Press Release - Ron Paul Iowa Team Names New 'Veterans For Ron Paul' Coalition Members
Hawkeye State heroes hail from Hamilton, Henry, and Pottawattamie Counties
ANKENY, Iowa — The Ron Paul 2012 Presidential campaign announced today new members of its "Veterans for Ron Paul" nationwide coalition.
Ron Paul, himself a veteran, believes national defense is the single most important responsibility the Constitution entrusts to the federal government. His national defense policy of keeping America strong, secure, and respected has garnered the support of veterans in Iowa and nationally.
The new "Veterans for Ron Paul" coalition members hail from Hamilton, Henry, and Pottawattamie Counties.
Iraq War veteran Ryan Cook of Mount Pleasant proudly served in the United States Army for more than four years.
Drawn to Congressman Paul's foreign policy positions Mr. Cook said, "Ron Paul understands that nation-building abroad is devastating in both human and financial costs. We have lost over 4,000 American fathers, brothers, and sons after a decade overseas. We have spent billions of American taxpayer dollars. American families and taxpayers can no longer afford it. Ron Paul understands that."
Another supporter, retired Army Captain Gary Bruns, served more than six years in the military following the end of the Vietnam War.
"As an Air Force Veteran, Ron Paul took an oath to defend our nation against all enemies, foreign and domestic. Dr. Paul's record is clear — for decades he has supported a strong national defense. I know he will represent me and veterans across the nation when he becomes president," said Bruns, who resides in Council Bluffs.
Finally there is Ray Frye, a U.S. Army veteran living in Williams.
"Ron Paul has a pro-American foreign policy and believes in the values our nation was built upon. He also understands that we need to end the kind of nation-building that increases our debt and sacrifices American lives," said Mr. Frye.
As a first basic step, those interested in joining the "Veterans for Ron Paul" coalition should visit the official pagehere. Those residing in Iowa should email Iowa Voter Outreach Director Meghann Walker atmeghannw@ronpaul2012.com.
Ron Paul, Ron Paul Campaign Press Release - Ron Paul Iowa Team Names New 'Veterans For Ron Paul' Coalition Members Online by Gerhard Peters and John T. Woolley, The American Presidency Project https://www.presidency.ucsb.edu/node/299343