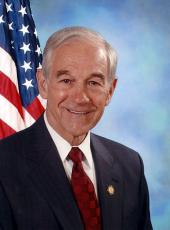 Ron Paul Campaign Press Release - Ron Paul Iowa Team Names New 'Doctors for Ron Paul' Coalition Members
Fellow medical professionals hail from Johnson, Story and Page counties
ANKENY, Iowa — The Ron Paul 2012 Presidential campaign announced today new members of its "Doctors for Ron Paul" nationwide coalition, this time highlighting medical professionals from the first-in-nation voting state of Iowa.
Doctors are excited about Dr. Paul's candidacy in large part due to his firm stance of repealing Obamacare, restoring health freedom, and curtailing government intervention in healthcare. Seeking to restore the doctor-patient relationship as an alternative to the present patient-bureaucrat-doctor hindrance to healthcare delivery, Hawkeye State doctors have stepped forward with the following endorsements.
Dr. Christopher Peters is a nine-year Army Medical Corps veteran currently practicing as a thoracic surgeon in Iowa City and resides in Coralville with his wife and three sons. He was a 2010 Libertarian Party candidate for the Iowa State Senate, and set a record for an Iowa Libertarian candidate, garnering over 25 percent of the popular vote.
Today Dr. Peters stated, "As a fellow physician and surgeon, I fully support Dr. Ron Paul in his bid to become the next President of the United States because he brings the same qualities to public service as one should expect from any physician. Dr. Paul's primary interest is his patient, which in this case is our country, and this patient is in ill health and has been poorly cared for by our partisan politics, corporatism, and banking system. Dr. Paul has taken the time to understand his patient's condition thoroughly, without being hindered by traditional left-right politics, and has prescribed solutions that are long overdue."
"Like any good physician, Dr. Paul has been consistent and reliable throughout his long years of public service, and I completely trust that he will put our country's needs before the interests of anything or anyone else," added Dr. Peters.
As a retired OB/GYN, Daniel Keller is both an MD and Ph.D. He served in the Air Force as a flight surgeon for two years, and was a physiology instructor to medical students for seven years. Dr. Keller emphasizes that during his career, he has never performed an abortion, been sued for malpractice, or had the mother die during or after a delivery. He resides in Nevada with his wife, and has six children.
Among the cited reasons why medical professionals should support Ron Paul, Dr. Keller notes, "Dr. Paul has two brothers who are Christian ministers, and is himself a Christian. He would never undertake a procedure that is dangerous and might result in harm to his patient. Dr. Paul knows that the physician's first responsibility is to his patient — not the government which is terribly anxious to pay the bill."
Wrapping up today's endorsements is Dr. John Bowery, a Shenandoah family physician. His statements follow:
"My small rural hospital must comply with more than 130,000 pages of rules and regulations that govern Medicare and Medicaid alone. Every time I transfer a patient from our emergency room for care at a larger hospital, I risk federal prosecution, a $50,000 fine and jail time under the federal Emergency Medicine and Active Labor Act. Of all the presidential candidates, only Doctor Paul has shown that he understands how this cancer of bureaucracy is destroying health care, endangering patients, and ruining good medical practice in America. I am also convinced that only a President Paul would have the knowledge and courage to give us the cure."
As a first basic step, those interested in joining the "Doctors for Ron Paul" coalition should visit the official page here. Those residing in Iowa should email Iowa Voter Outreach Director Meghann Walker atmeghannw@ronpaul2012.com.
Ron Paul, Ron Paul Campaign Press Release - Ron Paul Iowa Team Names New 'Doctors for Ron Paul' Coalition Members Online by Gerhard Peters and John T. Woolley, The American Presidency Project https://www.presidency.ucsb.edu/node/299325