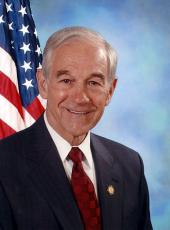 Ron Paul Campaign Press Release - Ron Paul Endorsed by Pastor of Trinity Lutheran Church in Clinton
Rev. John Preus of Clinton County calls Dr. Paul a "Republican who consistently articulates conservative stances on every issue he faces."
ANKENY, Iowa — The Ron Paul 2012 Presidential campaign announced today that the Rev. John Preus, Pastor of Trinity Lutheran Church in Clinton, Iowa, has endorsed Ron Paul for the presidency.
Below please find the full statement of support from Rev. Preus:
"My name is Rev. John Preus. I am the pastor of Trinity Lutheran Church in Clinton, Iowa. We are a conservative congregation, and I am a conservative pastor. Our doctrine has not morphed over time, and neither have our positions on issues of morality with which our country and culture are currently wrestling. As a pastor, it is not my job to endorse political candidates, and so I won't. It's my job to preach the word of God, and I do.
"But as an American and as a Christian, it is my job to support and promote good government and faithful rulers. What a delight for me it has been to find a candidate like Ron Paul. He is a true blue Republican who consistently articulates conservative stances on every issue he faces.
"Some have suggested that perhaps he is weak on such issues as homosexual marriage, or a federal amendment against abortion. But this is not so. Ron Paul has not hidden his convictions that support life at conception and fidelity between man and woman within marriage. He is quite open about what he believes. But he also understands, as I do, that if this nation of ours will see a moral and political reversal, it must happen in our families and communities, and not be dictated from the top of some bureaucracy.
"It is our job as conservatives and as Americans to effect such change, but we need the freedom to do so. It is, therefore, the job of our President to abide by our Constitution and to defend our liberties so that such change can be effected by those in a position to do so. That is why I support Ron Paul for President proudly and with a clear conscience, knowing that if this great land is to be restored to her first principles of Life, Liberty, and the Pursuit of Happiness, the rule of law must be firmly upheld. Ron Paul will do this."
Ron Paul 2012 Iowa Chairman Drew Ivers welcomed the endorsement, saying, "Rev. Preus's endorsement and those of others adds to an atmosphere conducive to a strong top-three showing in the January caucuses."
In making the endorsement, Rev. Preus mentioned that he was not speaking on behalf of Trinity Lutheran congregants, but rather he was doing so "as an American, and as a Christian."
Mike Heath, Iowa State Director for the Ron Paul 2012 campaign, is visiting Christian churches across Iowa to do outreach and discuss Ron Paul's candidacy. To date, Heath has visited 256 houses of worship across the state toward that end. Heath is an ordained Christian minister.
If ministering in Iowa, local pastors interested in discussing an endorsement are invited to email the Iowa Director of Voter Outreach, Meghann Walker, at meghannw@ronpaul2012.com.
Ron Paul, Ron Paul Campaign Press Release - Ron Paul Endorsed by Pastor of Trinity Lutheran Church in Clinton Online by Gerhard Peters and John T. Woolley, The American Presidency Project https://www.presidency.ucsb.edu/node/299401