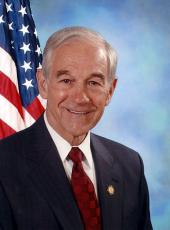 Ron Paul Campaign Press Release - Ron Paul Endorsed by Iowa Republican Party Leader
Mills says Paul "needed to lead the charge" in 2012
ANKENY, Iowa — The Iowa component of the Ron Paul 2012 Presidential Campaign announced that Iowa Republican State Central Committee member James Mills has publicly endorsed Dr. Paul.
Mr. Mills already serves as 4th District co-chairman for the Ron Paul 2012 Presidential Campaign and a national advisory board member of "Homeschoolers for Ron Paul." However, as a function of his endorsement he is clarifying his support for Dr. Paul from the perspective of an Iowa Republican Party leader.
"I'm pleased to endorse Congressman Ron Paul for the Republican nomination to defeat President Barack Obama next year," said Mr. Mills, who is an educator in Mason City living in Nora Springs.
"Dr. Paul's consistent record of unwavering principles continues to attract new voters to the Republican Party. His ability to unite a diverse, grassroots following is a testament to his message of Liberty. Dr. Paul's firm belief and confidence in the power of the individual, free markets, sound money, and a non-interventionist foreign policy is needed to lead the charge at the top of the ticket," said Mr. Mills.
Mr. Mills is a lifelong Iowan raised on a family farm. He graduated with a B.A. from the University of Northern Iowa in Math Education. He worked as a teacher in the Nora Springs Rock Falls Community School District and the Mason City-based Sylvan Learning Center, which he now owns.
"The endorsement of Ron Paul by Republican Party of Iowa State Central Committeeman James Mills is further proof that Dr. Paul's message resonates with Republicans," said A.J. Spiker, Iowa Vice-Chair for the Ron Paul 2012 Presidential Campaign.
"Dr. Paul has been endorsed by more members of the Republican Party of Iowa's State Central Committee than any other candidate seeking the presidency. Five of the 17 members of the RPI leadership have now endorsed Ron Paul. James Mills joins Drew Ivers, A.J. Spiker, David Fischer and Jeremiah Johnson in endorsing Ron Paul for President. Each of these party leaders represent more than 100,000 registered Republicans in their respective districts," said Mr. Spiker.
Ron Paul, Ron Paul Campaign Press Release - Ron Paul Endorsed by Iowa Republican Party Leader Online by Gerhard Peters and John T. Woolley, The American Presidency Project https://www.presidency.ucsb.edu/node/299084