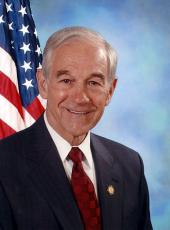 Ron Paul Campaign Press Release - Paul v Romney — Donations Show Stark Difference
Paul raised most from active military, Romney tapped big banks
LAKE JACKSON, Texas — A recent independent analysis of candidates' campaign contributions reveals an interesting disparity between the Ron Paul 2012 Presidential Campaign and frontrunner Mitt Romney's campaign. Romney's top supporters appear to be made up of big banks while, unsurprisingly, Paul's top contributors were men and women serving in the U.S. Armed Forces.
"This fundraising analysis confirms Americans' beliefs about Ron Paul and their suspicions about Mitt Romney. It is that Dr. Paul is extraordinarily popular and accepted by the everyman and by everyday heroes, while Romney relies almost exclusively on his big-business ties," said Ron Paul 2012 National Campaign Chairman Jesse Benton.
According to the analysis, the top three organizations that employ Romney's supporters are Goldman Sachs, Credit Suisse Group, and Morgan Stanley. Reflecting his popularity with the everyman and our uniformed service men and women, the top three organizations that employ Dr. Paul's supporters are the U.S. Air Force, the U.S. Army, and the U.S. Navy.
The study notes that the organizations themselves did not contribute. Rather, "the money came from the organization's PAC, its individual members or employees or owners, and those individuals' immediate families." The analysis suggests, then, that the use of PACs, bundling, subsidiaries and the like was not a feature of Dr. Paul's grassroots fundraising.
Ron Paul, Ron Paul Campaign Press Release - Paul v Romney — Donations Show Stark Difference Online by Gerhard Peters and John T. Woolley, The American Presidency Project https://www.presidency.ucsb.edu/node/299180