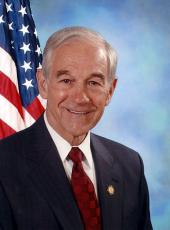 Ron Paul Campaign Press Release - In Case You Missed It: Rand Paul Calls Newt Gingrich Unworthy of Tea Party Support
In the Des Moines Register, Ron Paul's tea party-backed son outlines the case against a Newt nod
LAKE JACKSON, Texas — "Gingrich is not from the Tea Party. He is not even a conservative." These words appear in today's influential Des Moines Register newspaper. They're written by Sen. Rand Paul (R-KY), elected in 2010 largely with tea party backing.
A son of 2012 Republican Presidential candidate Ron Paul, Sen. Paul cautions GOPers to be wary of the "tea party" and "conservative" labels that media and pundits are recklessly applying to the former House Speaker.
Rand Paul: Republicans would take a giant step backward by choosing Gingrich
As a U.S. senator elected from and by the tea party, I am often asked about the tea party, the conservative movement and the presidential race.
While conservatives and limited-government activists did, indeed, make great strides in 2010, those could easily be set back by nominating someone with a different set of ideas and values in 2012.
Let me start with something important. I have two goals for 2012:
I want to prevent the European debt crisis from consuming America next.
I want to elect a president who will defend the ideas of constitutional conservatism and limited government.
Unfortunately, while all Republican candidates would be an improvement over the present administration, two of the current frontrunners simply do not represent the tea party, the conservative movement, or the type of change our country desperately needs in 2012.
Let me begin with the most obvious reasons:
Both Mitt Romney and Newt Gingrich supported the outrageous $700 billion Troubled Asset Relief Program, or TARP, bailouts — "one of the most unpopular government programs in American history," even according to President Obama's own Treasury Department.
Both Romney and Gingrich have been outspoken and unapologetic supporters of the individual mandate. This is the heart and soul of ObamaCare.
For the full article, please click here.
Ron Paul, Ron Paul Campaign Press Release - In Case You Missed It: Rand Paul Calls Newt Gingrich Unworthy of Tea Party Support Online by Gerhard Peters and John T. Woolley, The American Presidency Project https://www.presidency.ucsb.edu/node/299078