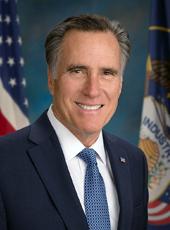 Romney Campaign Press Release - Huckabee's Playground Diplomacy
Blames Bush, Copies Clinton & Obama Talking Points
The No Laughing Matter!: A serious look at Gov. Mike Huckabee's record and policy beyond the one-liners. As in:
- Gov. Mike Huckabee: "And the ultimate thing is, I may not be the expert that some people are on foreign policy, but I did stay in a Holiday Inn Express last night." ("Imus In The Morning," 12/4/07)

- National Review: "The Holiday Inn Express Candidate." "In sum, conservatives should have worries about the depth and soundness of Mike Huckabee's foreign-policy views. And staying at a Holiday Inn Express is not going to be enough to allay them." (Editorial, "The Holiday Inn Express Candidate, National Review, 12/10/07)
PLAYGROUND DIPLOMACY
COME ON, EVERYBODY, BE NICE!
Gov. Huckabee's Foreign Policy: Be Nice And Follow The Golden Rule. "Huckabee also said that nations deserve the same kind of treatment that individuals do. 'You treat others the way you'd like to be treated,' he said. 'That's to me the fundamental issue that has to be re-established in our dealings with other countries.'" (Lisa Rossi, "Huckabee: Restore U.S. Ties Around World," The Des Moines Register, 12/4/07)
Gov. Huckabee Says The U.S. Shouldn't Act Like An Arrogant High School Student. GOV. HUCKABEE: "The United States, as the world's only superpower, is less vulnerable to military defeat. But it is more vulnerable to the animosity of other countries. Much like a top high school student, if it is modest about its abilities and achievements, if it is generous in helping others, it is loved. But if it attempts to dominate others, it is despised." (Gov. Mike Huckabee, "America's Priorities In The War On Terror," Foreign Affairs, 1-2/08)
Gov. Huckabee Wants The U.S. To Negotiate With Iran Because We Should Be Nice To Our Friends. GOV. HUCKABEE: "Yet we have not had diplomatic relations with Iran in almost 30 years; the U.S. government usually communicates with the Iranian government through the Swiss embassy in Tehran. When one stops talking to a parent or a friend, differences cannot be resolved and relationships cannot move forward. The same is true for countries. The reestablishment of diplomatic ties will not occur automatically or without the Iranians' making concessions that serve to create a less hostile relationship." (Gov. Mike Huckabee, "America's Priorities In The War On Terror," Foreign Affairs, 1-2/08)
FOREIGN POLICY PLAYBOOK
CRIBBED FROM DEMOCRATS
Huckabee/Democrat Talking Point #1 – Blame Bush Foreign Policy:
Gov. Huckabee: "The Bush Administration's Arrogant Bunker Mentality Has Been Counterproductive At Home And Abroad." (Gov. Mike Huckabee, "America's Priorities In The War On Terror," Foreign Affairs, 1-2/08)
- Sen. John Kerry (D-MA) Said The Bush Administration Was In "Bunker Mode." KERRY: "Attempting to prevent the Senate from investigating only prolongs the toxicity and further isolates a White House in bunker mode." (Sen. John Kerry, "Sen. Kerry Says White House Stonewalling Disservice To Democracy," Press Release, 7/9/07)

- Sen. Dianne Feinstein (D-CA) Said The Bush White House Was "In A Bunker Mentality." "Senator Dianne Feinstein, a California Democrat, suggested that 'the White House is in a bunker mentality - won't listen, won't change.'" (Carl Hulse and Sheryl Gay Stolberg, "U.S. House Panel Authorizes Subpoena For Rove And Others," International Herald Tribune, March 21, 2007)
Gov. Huckabee: "After President Bush Included Iran In The 'Axis Of Evil,' Everything Went Downhill Fast." (Gov. Mike Huckabee, "America's Priorities In The War On Terror," Foreign Affairs, 1-2/08)
- DNC Chairman Howard Dean Said The Axis Of Evil Was A "Foolish Phrase." MATTHEWS: "When you hear the phrase, axis of evil, is that a convincing phrase, a useful phrase, or a dangerous phrase? How do you hear it?" HOWARD DEAN: "I think it's a foolish phrase." (MSNBC's "Hardball," 1/26/04)
Huckabee/Democrat Talking Point #2 – Have Tea With Ahmadinejad:
Gov. Huckabee Is Calling For Negotiations With Iran. GOV. HUCKABEE: "We have substantive issues to discuss with Tehran. ... We have valuable incentives to offer Iran: trade and economic assistance, full diplomatic relations, and security guarantees. ... Another way to contain Iran is through diplomacy. We must be as aggressive diplomatically as we have been militarily since 9/11. We must intensify our diplomatic efforts with China, India, Russia, South Korea, and European states and persuade them to put more economic pressure on Iran." (Gov. Mike Huckabee, "America's Priorities In The War On Terror," Foreign Affairs, 1-2/08)
- Sen. Hillary Clinton (D-NY) Would Negotiate With Iran "With No Conditions." "But campaigning in New Hampshire this week, Clinton said, 'I would engage in negotiations with Iran with no conditions.'" (Margaret Talev, "Clinton's Position On Iran Under Fire," The Miami Herald, 10/13/07)

- Sen. Barack Obama (D-IL) Said He Would Meet With Leaders Of Rogue Nations Like Iran. OBAMA: "And I think that it is a disgrace that we have not spoken to them. We've been talking about Iraq -- one of the first things that I would do in terms of moving a diplomatic effort in the region forward is to send a signal that we need to talk to Iran and Syria because they're going to have responsibilities if Iraq collapses. ... And the reason is this, that the notion that somehow not talking to countries is punishment to them -- which has been the guiding diplomatic principle of this administration -- is ridiculous." (CNN/YouTube Democratic Presidential Debate, 7/24/07)
Huckabee/Democrat Talking Point #3 – Attack Your Allies:
Huckabee Suggests Attacking Targets In Pakistan Without Pakistani Approval. "Despite the Bush administration's continued claims that the U.S. military will pursue 'actionable targets,' according to a July 2007 article in The New York Times based on interviews with a dozen current and former military and defense officials, a classified raid targeting bin Laden's top deputy, Ayman al-Zawahiri, in Pakistan was aborted in early 2005. Then Defense Secretary Donald Rumsfeld called off the attack at the very last minute, as Navy Seals in parachutes were preparing in C-130s in Afghanistan, because he felt he needed Musharraf's permission to proceed. Why did Rumsfeld, instead of President Bush, call off the attack? Did he ask for Musharraf's permission or assume he would not get it? When I am president, I will make the final call on such actions. ... Rather than wait for the next strike, I prefer to cut to the chase by going after al Qaeda's safe havens in Pakistan." (Gov. Mike Huckabee, "America's Priorities In The War On Terror," Foreign Affairs, 1-2/08)
- Sen. Obama Recently Suggested Attacking Inside Pakistan Without Pakistani Approval. "Obama said if elected in November 2008 he would be willing to attack inside Pakistan with or without approval from the Pakistani government, a move that would likely cause anxiety in the already troubled region. 'If we have actionable intelligence about high-value terrorist targets and President Musharraf won't act, we will,' Obama said." (Steve Holland, "Tough Talk On Pakistan From Obama," Reuters, 8/1/07)
Mitt Romney, Romney Campaign Press Release - Huckabee's Playground Diplomacy Online by Gerhard Peters and John T. Woolley, The American Presidency Project https://www.presidency.ucsb.edu/node/296486