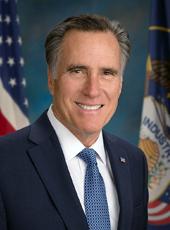 Romney Campaign Press Release - Governor Mitt Romney Announces National Finance Chairs And Co-Chairs
FOR IMMEDIATE RELEASE

CONTACT: Kevin Madden (857) 288-6390
Boston, MA – Today, Governor Mitt Romney named the Romney for President National Finance Chairs and Co-Chairs. These men and women will offer valuable support and counsel to Governor Romney as he travels the country communicating his vision of bringing conservative change to Washington.
"At home and abroad we are facing unprecedented challenges that will test our strength and resolve as a nation," said Governor Romney. "With the help of such committed leaders, we will overcome these challenges and bring innovation and transformation to our nation's capital. I am grateful for their strong support."
For the past seven months, the National Finance Chairs have been leading efforts to build the resources for Governor Romney's national campaign. The Chairs serve as regional leaders of the National Finance Committee. The Co-Chairs are responsible primarily for fundraising efforts in their respective states.


Romney For President National Finance Chairs:
- Christopher Collins – Managing Partner of First Atlantic Capital, LLC, Massachusetts

- Mark Guzzetta – President of Gemstone Development Corp., Florida

- John And Vicki Miller – John Miller is CEO and Founding Member of the National Beef Packing Company, LLC, Kansas/Utah

- David and Patricia Nierenberg – David Nierenberg is the President and General Partner of the D3 Family Funds, Washington

- John and Terry Rakolta, Jr. – John Rakolta, Jr. is the Chairman and CEO of Walbridge Aldinger, Michigan

- Ambassador Mel Sembler – Former United States Ambassador to Italy, Australia, and Nauru and Chairman of the Board of The Sembler Company, Florida

- Thomas R. Tellefsen and Stephanie Spencer – Tom Tellefsen is the Principal of Tellefsen Investments, Inc., California

- Meg Whitman And Griff Harsh – Meg Whitman is the President and CEO of eBay and Griff Harsh is a Professor of Neurosurgery at Stanford University, California
Romney For President National Finance Co-Chairs:


- Scott Baugh – Former California Assembly Republican Leader, California

- Bruce and Marcy Benson – Bruce Benson is the Owner & President of Benson Mineral Group, Colorado

- Governor Matt Blunt – Governor of Missouri, Missouri

- David Bradford – Founder/CEO Galactic Networks and FundingUniverse.com, California

- Ambassador and Mrs. Stephen Brauer – Stephen Brauer is the President and CEO of Hunter Engineering Co., Missouri

- Jonathan and Julie Bullen – Jonathan Bullen is the Owner and President of Provo College, Eagle Gate College, and Evolution Fitness, Utah

- Kelly and Laurie Burt – Kelly Burt is the Chairman & CEO of Price Self Storage, California

- Al Cardenas – Senior Partner at Tew Cardenas, LLC, Florida

- Nancy Heffner Donovan and Steve Donovan – Nancy Heffner Donovan is the President of Ames Travel Service, Ohio

- Spencer F. Eccles – Chairman Emeritus of the Intermountain Region of Wells Fargo Bank, Utah

- David and Jennifer Fischer – David Fischer is Chairman & CEO of The Suburban Collection, Michigan

- John Fish – President & CEO of Suffolk Construction, Massachusetts

- Jeff Fox – CEO of Harbour Group, Missouri

- Jim and Debbie Francis – Jim Francis is the President of Francis Enterprises Inc., Texas

- Kem Gardner – Founder of The Gardner Company, Utah

- Jack Gerard – President and CEO of the American Chemistry Council, Virginia

- Paul and Susan Gilbert – Paul Gilbert is a Partner at Beus Gilbert, PLLC, Arizona

- Terry Graunke – Founder and Chairman of Lake Capital, Illinois

- Bill and Chrissy Hagerty – Bill Hagerty is the Managing Director and Co-Founder of Hagerty Peterson and Company, LLC., Tennessee

- Bill Harrison – Chairman of the Board of JPMorgan Chase, New York

- Jon M. Huntsman – Chairman of the Huntsman Corporation, Utah

- Chris Jenny – Senior Partner at The Parthenon Group, Massachusetts

- Darlene and Gerald Jordan – Darlene Jordan is on the Board of Directors for the Boys & Girls Clubs of Boston, Massachusetts

- Shelly Kamins – Co-owner of Blum, Frank and Kamins Companies and of DuVal Development, Maryland

- Hersh Kozlov – Managing Partner at WolfBlock, New Jersey

- Steve Lessing – Head of Client Relationship Management at Lehman Brothers Holdings, Inc., New York

- Carl H. Lindner, Jr. – Chairman of American Financial Group, Ohio

- S. Craig and Frances Lindner – S. Craig Lindner is the Co-President and Co-CEO of American Financial Group, Ohio

- Hadi Makarechian – Chairman, CEO & President of Capital Pacific Holdings, California

- Bill Marriott – Chairman and CEO of Marriott International, Maryland

- Dick Marriott – Chairman of Host Marriott Corp, Maryland

- Don Miller – Chairman of Axiom International Investments, LLC, Connecticut

- David and Lauren Parker – David Parker is the Managing Partner & Principal at SRS Capital Partners, California

- Craig Pattee – President of Dutko Worlwide, Virginia

- Don and Susan Peay – Don Peay is the Founder of Sportsmen for Fish & Wildlife, Utah

- Bob Pence – President of Pence Friedel Developers, Inc., Virginia

- Blake Roney – Chairman of the Board, Nu Skin Enterprises, Inc., Utah

- Muneer Satter – Partner at Goldman Sachs, Illinois

- Edward A. Schwartz – President of Gregory J. Schwartz & Co., Inc., Michigan

- Wally Schwartz – Director at Gregory J. Schwartz & Co., Inc., Michigan

- L.E. Simmons – Founder and President of SCF Partners, Texas

- Jim Sims – Founder, Chairman, and CEO of Gen3 Partners, Massachusetts

- Boyd Smith – Partner at WSJ Properties, California

- Pete and Cam Starrett – Pete Starrett is with private equity firm, Freeman Spogli, California

- Eric Tanenblatt – Senior Managing Director at McKenna Long & Aldridge, Georgia

- Ted Welch – Owner of Ted Welch Investments, Tennessee

- Frank Vandersloot – President & CEO of Melaleuca, Idaho
Mitt Romney, Romney Campaign Press Release - Governor Mitt Romney Announces National Finance Chairs And Co-Chairs Online by Gerhard Peters and John T. Woolley, The American Presidency Project https://www.presidency.ucsb.edu/node/296283