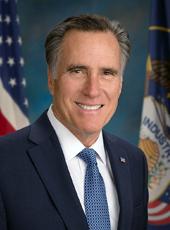 Romney Campaign Press Release - Governor Mitt Romney Announces Georgia Statewide Coalitions
FOR IMMEDIATE RELEASE

CONTACT: Romney Press Shop (857) 288-6390
Boston, MA – Governor Mitt Romney has expanded his base of political support today with the announcement of four newly-formed Georgia statewide coalitions. These coalitions include Hispanics for Mitt, Veterans for Mitt, Women for Mitt and Young Professionals for Mitt. The members of these coalitions will help organize grassroots efforts in Georgia and will communicate Governor Romney's message of conservative change in Washington.
Announcing the coalitions, Governor Romney said, "I am pleased to be able to announce the formation of four new political coalitions in Georgia. Their leadership and hard work are critical to our campaign in the state. We are building an exceptional team and we continue to gain momentum. With the help of these coalition members, we will be competitive during the primary season. I look forward to working with these Georgians as we continue to campaign throughout the state."
These new coalition members join U.S. Congressmen Tom Price and Phil Gingrey, and Speaker Pro Tempore Mark Burkhalter and State Senator Dan Moody in their support of Governor Romney. Cobb County Commission Chairman Sam Olens, along with State Representatives David Casas, Brooks Coleman, Jan Jones, Jeff Lewis, Edward Lindsey, Chuck Martin, Fran Millar, and Bob Smith have also endorsed Governor Romney's campaign.
Governor Romney's Georgia Statewide Coalitions:
Georgia Hispanics For Mitt
- Jaime Aguilera, Fulton County

- Anna Cablik, Cobb County

- Rep. David Casas, Gwinnett County

- Glenda Galvez Hanley, Fulton County

- Javier Ortiz, Fulton County

- Jose Perez, Gwinnett County
Georgia Veterans For Mitt
- Marty Cain, Houston County

- David Carlsen, Columbia County

- Robert Gaskin, Cobb County

- Kara Gaskin, Cobb County

- James Gradisher, Gwinnett County

- Shawn Hanley, Fulton County

- Jason Kercheval, Carroll County

- Tom Nauss, Peach County

- Oscar Poole, Gilmer County
Georgia Women For Mitt
- Lisa Bilz, Fulton County

- Lorna Boot, Coweta County

- Sherie Bush, Fulton County

- Shannan Jo Doan, Douglas County

- Haley Johnson, Cobb County

- Patricia Nauss, Peach County

- Amanda Peck, Hall County

- Jane Whittle, Cobb County

- Betty Wrath, Cherokee County
Georgia Young Professionals For Mitt
- Jason Byers, Fulton County

- Emily Ebanks-Wiener, Fulton County

- Lisa Fleishman, Gwinnett County

- Keith Golden, Fulton County

- Ryan Howells, Forsyth County

- Edmund Lord, Fulton County

- Jeremy Martin, Fulton County

- Miles Mobley, Haralson County

- Mike Molloy, Fulton County

- Jeff Wiener, Fulton County
Mitt Romney, Romney Campaign Press Release - Governor Mitt Romney Announces Georgia Statewide Coalitions Online by Gerhard Peters and John T. Woolley, The American Presidency Project https://www.presidency.ucsb.edu/node/296267