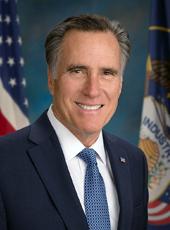 Romney Campaign Press Release - In Case You Missed It: Governor Mitt Romney Visits The Southern Border
"GOP Hopeful Romney Tours Border In S.D."

By John Marelius

The San Diego-Union Tribune

August 14, 2007
"Republican presidential candidate Mitt Romney came here yesterday and praised the Bush administration's crackdown, announced last week, on employers that hire workers who are in the country illegally, but he said more needs to be done.
"'You've got to shut down the magnets that say to these people, 'Come on in and get jobs across the border,' Romney said. 'Because if you have thousands of people coming across the border every day for work, you're not going to be able find every time those that are coming across with drugs and those that are coming across with homeland security threats.'
"The former Massachusetts governor toured the U.S.-Mexico border and then held a news conference a short distance from the border fence in San Ysidro.
"Romney said the federal government needs to hire more Border Patrol agents, create a verification system so employers can find out if prospective employees are legal residents and crack down on 'sanctuary cities' that publicly embrace immigrants whether they are in the country legally or not."
...
"'We have to shut down the magnet of these sanctuary cities – of these cities that call themselves a zone for protection where their city workers and other agencies are providing cover for those who are here illegally,' Romney said yesterday.
"He said the federal government should penalize such cities by cutting back federal funds."...
To read the full story about Governor Romney's visit to the Southern Border, please see: http://www.signonsandiego.com/news/metro/20070814-9999-1m14romney.html
For more local coverage, check out this package from San Diego's CBS station KFMB: http://www.youtube.com/watch?v=QAbsQtLtmzY
Mitt Romney, Romney Campaign Press Release - In Case You Missed It: Governor Mitt Romney Visits The Southern Border Online by Gerhard Peters and John T. Woolley, The American Presidency Project https://www.presidency.ucsb.edu/node/296972