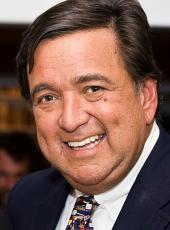 Richardson Campaign Press Release - New Mexico Governor Bill Richardson Announces Presidential Campaign Exploratory Committee
SANTA FE, NM--New Mexico Governor Bill Richardson today announced the formation of a Presidential campaign exploratory committee, with the clear intention of seeking the Democratic nomination for President in 2008. "I am taking this step because we have to repair the damage that's been done to our country over the last six years," said Richardson. "Our reputation in the world is diminished, our economy has languished, and civility and common decency in government has perished." "The next president of the United States must get our troops out of Iraq without delay. Before I became Governor of New Mexico, I served as Ambassador to the United Nations and as Secretary of Energy. I know the Middle East well and it's clear that our presence in Iraq isn't helping any longer," said Richardson. "Our next President must be able to bring a country together that is divided and partisan," said Richardson. "It is clear that Washington is broken and it's going to take a return to bipartisanship and simple respect for each other's views to get it fixed. Most public policy solutions these days are coming from Governors and state government. On issues like the environment, jobs, and health care, state governments are leading the way. And that's because we can't be partisan or we won't get our jobs done. That's a lesson I've learned as Governor and that's what I'll do as President." When New Mexico Governor Bill Richardson speaks about embracing diversity, the American dream, and public service, he speaks from unparalleled experience. Born November 15, 1947 in Pasadena, California to an American father and Mexican mother, Governor Richardson grew up in Mexico City before moving to New England, where he attended high school and college. He has dedicated his life to public service, as a United States Congressman, Ambassador to the United Nations, Secretary of Energy, and now as Governor of New Mexico. This past November, Richardson won re-election to his second term as Governor of New Mexico with a resounding 69% of the vote, the largest margin of victory in state history. He was supported by Democrats, Republicans and Independents, winning in both urban and rural counties. New Mexicans overwhelmingly endorsed Governor Richardson's aggressive efforts to improve education, cut taxes, build a high-wage economy, expand health care access, invest in renewable energy and make New Mexico safer. Bill Richardson's fiscally responsible governing style has allowed New Mexico to tackle important priorities, while maintaining a balanced budget and the highest reserves in state history. He cut $230 million in bureaucratic waste, invested in new opportunities for New Mexico's children and returned more than $1 billion dollars in taxes to working families. His innovative policies have turned New Mexico's economy around, with 84,000 new jobs, rising personal income and a growing high tech sector that includes manufacturing, aviation, and renewable energy. As Secretary of Energy to President Bill Clinton, Bill Richardson implemented tough efficiency standards to save energy. And as Governor, he has made New Mexico the Clean Energy State by requiring utility companies to produce energy through renewable resources and reduce carbon emissions. Before becoming Governor, Bill Richardson served in Congress for 15 years and helped President Clinton pass the economic plan that created millions of jobs and led America to its first balanced budget in 30 years. Appointed by President Clinton as the Ambassador to the United Nations, Bill Richardson worked with world leaders to build alliances and help prevent the development of nuclear weapons in North Korea. Bill Richardson has been nominated four times for the Nobel Peace Prize for negotiating the release of hostages, American servicemen and political prisoners in North Korea, Iraq, and Cuba. Governor Richardson recently negotiated a 60-day cease fire in war-torn Darfur following direct talks with rebel leaders and the President of Sudan. As Chairman of the Democratic Governor's Association, Governor Richardson raised more than $28 million for gubernatorial candidates and helped elect the first Democratic majority of governors since 1994. Governor Richardson also served as Chair of the Western Governors Association, Border Governor's Conference and the 2004 Democratic National Convention. Bill Richardson has been married to his high school sweetheart, Barbara, for 33 years. Richardson received a BA from Tufts in 1970 and a MA from Tufts' Fletcher School of Law and Diplomacy in 1971. The Bill Richardson for President Exploratory Committee will be headquartered in New Mexico. Key staff will include:
Dave Contarino: Contarino ran Richardson's first campaign for Governor, served as his Chief of Staff for 3 years and most recently was the Chair of his re-election campaign.
Amanda Cooper: Cooper was Richardson's re-election Campaign Manager and Fundraising Director. Cooper oversaw raising $14 million for the Governor's re-election campaign and led the effort to raise $28 million for the DGA in Governor Richardson's two year term as Chair.
Pahl Shipley: Shipley was most recently the Communications Director and Chief Spokesperson in the Office of Governor Bill Richardson. Shipley is a 25-year award-winning veteran of television news and prior to working for Richardson, he served as the News Director at KOAT-TV in Albuquerque, New Mexico.
Colleen Turrentine: Turrentine served as the national fundraising director for the Democratic Leadership Council. Before that, she worked for the 2004 Joe Lieberman presidential campaign.
Richardson's Senior Advisors will include:
Steve Murphy: Murphy is a founding partner of Murphy Putnam Media, a premiere Washington media consulting firm. Murphy was Dick Gephardt's National Campaign Manager in 2003-2004 and managed his Iowa caucus campaign in 1988.
Mike Stratton: Stratton has served in numerous senior roles in several Democratic Presidential Campaigns and has served as a long-time Senior Political Advisor to Richardson.
Mark Putnam: Putnam, a founding partner of Murphy Putnam media, has been a media consultant and campaign strategist for over two decades. He's written, directed, and produced over 1,000 commercials for campaigns in 46 states, including helping elect five Governors, six U.S. Senators, and dozens of members of the U.S. House.
Jeff Eller: Eller is the CEO of Public Strategies in Austin, and a veteran of the Clinton 1992 Campaign and the White House.
Jennifer Yocham Poersch: Yocham Poersch, a former deputy finance director for the 2004 Lieberman campaign, will work with Cooper on national fundraising. Poersch worked for the Democratic Senate Campaign Committee, including a stint as senior adviser to committee chairwoman, U.S. Sen. Patty Murray of Washington
Joe Velasquez: Velasquez is Richardson's advisor on Labor and Political Affairs. Velasquez was the Head of the Department of Community Service for the AFL-CIO. Additionally, he was a former member of the DNC staff and a Deputy Director of Political Affairs for President Bill Clinton.
Calvin Humphrey: Humphrey has worked with Richardson for many years as his Foreign Policy Advisor, traveling to Iraq and most recently, Sudan on hostage rescue and other missions. Humphrey served as the Democratic Staff Director, Committee on Homeland Security, U.S. House of Representatives and previously was the Principal Deputy Assistant Secretary at the U.S. Department of Energy, Office of International Affairs.
Andre Pineda: Pineda is the Founder and President of Pineda Consulting, a California-based, Latino-owned firm specializing in political polling and strategic communications. Pineda has over 15 years of experience working for some of the biggest names in the political consulting business - Peter Hart, Geoff Garin, Fred Yang, Rich Schlackman, and Stan Greenberg.
Suzanne Cole Nowers: Nowers is the CEO of Nexus Direct, a top direct marketing firm, who worked for Richardson's re-election and whose clients include the DSCC to coordinate our direct mail fundraising.
To view Governor Bill Richardson's video statement in both English and Spanish please go to: www.richardsonforpresident.com
Bill Richardson, Richardson Campaign Press Release - New Mexico Governor Bill Richardson Announces Presidential Campaign Exploratory Committee Online by Gerhard Peters and John T. Woolley, The American Presidency Project https://www.presidency.ucsb.edu/node/295055