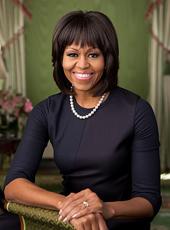 REVOLT Q&A with First Lady Michelle Obama
The following Q&A with the First Lady was featured on REVOLT. The piece can be viewed online HERE.
1. Do you find yourself being more ambitious about your designs to help young people now more than any other point in your life and why?
I've always said that the role of First Lady comes with this big bright light that follows you wherever you go, and you have the privilege – and the responsibility – to shine that light on important issues and tell the stories that too often go untold. So I do find myself being especially ambitious right now, especially because so many of the issues I work on are deeply personal to me.
A perfect example is my Reach Higher initiative, an effort to inspire young people to continue their education past high school. My parents didn't have college degrees, and while they loved and supported me, they really couldn't help me with things like standardized tests and financial aid forms. So I often had to figure stuff out on my own, and I didn't always get it right (I actually applied to one college simply because I liked the pictures in the brochure). And today, I have a chance to reach back and help young people struggling with these exact same challenges, and I intend to use my time as First Lady and beyond to do everything I can to empower them so they can fulfill their dreams.
2. Can you recall the most inspiring story you've heard as a part of this initiative about a young person who beat the odds and went on to higher education?
There are so many stories – young people dodging gangs and gunfire to make it to school each day; kids on Native American Reservations overcoming hardships you wouldn't believe; military kids who aren't just worrying about a test or a college application, but about whether mom or dad will come home safely from a deployment.
But time and again, I've met kids who've worked hard and, with support from caring adults, built a different life for themselves. For example, last summer, I met a young man named Anthony Mendez. Anthony is from the Bronx, and when he was a freshman in high school, his best friend was shot and killed. A year later, Anthony's family was evicted, and they moved into a homeless shelter. But Anthony was determined to keep up with his education, so he woke up at 4:30 every morning to commute from the shelter to his high school. And today, Anthony is a rising college sophomore with a passion for politics and public service, and I can't wait to see what he does with his life!
3. Our country values traditional education such as college and graduate school, do you think trade and technical education get their due, particular how instrumental those careers are to our economy?
Reach Higher isn't only about going to a four-year college – it's about getting the education you need to get a good job and fulfill your dreams, whether that's at a four-year college, a two-year college, or through Career and Technical Education (CTE). And I think CTE doesn't get anywhere near the recognition it deserves. I always tell young people, if you want to learn cutting-edge skills, or if you want to go into the culinary arts, or start your own business, or work in a hospital, or go into 3-D printing, or many other exciting fields, a four-year college isn't your only option.
In fact, for many young people, CTE is actually the best option because you can get all the professional skills you need for a good job in a high-demand field – and you can do it at a fraction of the time and cost of a four-year school. So I hope that through Reach Higher, more students and families learn that higher education is for everyone. You just have to find the school or program that's the best fit for you, and you have to work as hard as you can to get that certificate or degree.
4. #TodaysKidsWillNeverLearn recently was trending on Twitter and it drew laughs but also insightful responses -- it's your turn: #TodaysKidsWillNeverLearn....
I heard about those memes! Some were pretty funny and reminded me how different life is now than when I was growing up. For instance, today's kids will never learn what it's like when you don't have all kinds of information and opportunities right at your fingertips. Through social media and interactive websites, kids today can take classes with students in other countries and engage with other young people across the globe. You can even visit college campuses virtually and find money for college just by going online –StudentAid.gov is a great place to start.
We know, however, that many students don't have the access to high speed Internet they need – and the President and the Department of Education are working hard to close this gap – but the Internet provides learning opportunities I never could have dreamed of when I was a kid. And that's a good thing!
5. How do you respond to those who acknowledge how influential someone like Wale is with his popularly and sincerity but note that he also didn't complete his education beyond high school?
While Wale is fabulous, he is also a very talented exception to the rule. For the overwhelming majority of our young people – just about everyone, really – getting an education past high school is the key to getting a good job. The data is very clear: most new workers in our country will need skills that students just don't get in high school. For example, we need more engineers, scientists, computer programmers, nurses and teachers – jobs which all require some kind of education beyond high school. There's really no way around it: higher education – whether it's two-year or four-year college or Career and Technical Education – is the foundation of a successful future, end of story.
Michelle Obama, REVOLT Q&A with First Lady Michelle Obama Online by Gerhard Peters and John T. Woolley, The American Presidency Project https://www.presidency.ucsb.edu/node/320947