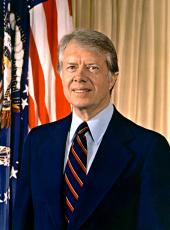 Reorganization Act of 1977 Statement on Signing S. 626 Into Law.
Today, I am signing legislation which will permit us to submit reorganization plans to the Congress over the next 3 years. The reorganizations proposed in the plans will go into effect unless disapproved by Congress within 60 days.
As I have stated on many occasions, my administration is determined to reorganize and streamline the executive branch of our Government. This is one of the ways in which I plan to fulfill my commitment to the American people to make government more responsive, efficient, and open. Reorganization authority provides one time-tested and efficient way to bring about these needed improvements.
Although the bill before me extends the reorganization authority for 3 years instead of the 4-year period I requested of Congress, it does provide some flexibility that has not been available to other Presidents. For the first time in the history of the authority, we can amend a reorganization plan while it is before Congress. Previously, a sound plan could have been rejected because no one could make minor but critical changes. In addition, the Congress has removed the limitation which previously permitted a President to submit only one plan every 30 days. This means that we can move more rapidly in presenting our reorganization proposals.
The reorganization process which is set into motion today will be an open one. We intend to involve the Congress, State and local governments, and individual groups and citizens who will be affected by change. We shall depend on public awareness and participation to help us pinpoint problems, to originate ideas and solutions, and to provide reactions to various options developed by reorganization study teams which are already at work. In fact, I have asked that a study of the Executive Office of the President be undertaken immediately, and the reorganization project within the Office of Management and Budget is beginning that project now.
The reorganization program will make a searching examination of the entire Federal structure. The program will be directed by Bert Lance who shares my enthusiasm for and serious commitment to the goal of making government work better.
I do plan to give my personal attention and support to the entire reorganization program. Reorganization of the Federal Government is not a simple task. It will take energy, time, and, above all, active cooperation among the executive branch, the Congress, and, most importantly, the American people. We are here to serve the public, and I intend that this Government will be responsive to their needs and provide services to them in as efficient a manner as possible.
Note: As enacted, S. 626 is Public Law 95-17, approved April 6.
In a fact sheet released on the same day, the White House announced that recommendations for reorganization of the Executive Office of the President will go to the President in early June, and that the project will be headed by Harrison Wellford, Executive Associate Director, Office of Management and Budget, and A.D. Frazier, Jr., Project Director.
Jimmy Carter, Reorganization Act of 1977 Statement on Signing S. 626 Into Law. Online by Gerhard Peters and John T. Woolley, The American Presidency Project https://www.presidency.ucsb.edu/node/243027