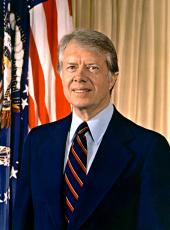 Renegotiation Board Nomination of Harry R. Van Cleve and William F. McQuillen To Be Members.
The President today announced that he will nominate Harry R. Van Cleve and William F. McQuillen to be members of the Renegotiation Board.
Van Cleve is General Counsel for the Cost Accounting Standards Board. He was born in Los Angeles, Calif., on May 3, 1923. He received a B.A. degree from the University of Southern California in 1947 and an LL.B. from Harvard Law School in 1949.
He was an attorney for the President's Water Resources Policy Commission in 1950 and 1951 and served as a trial attorney for the Federal Power Commission from 1951 to 1953.
From 1954 to 1960, he was an attorney in the Office of the General Counsel of the Department of Defense. In 1960 and 1961, he was Chief Counsel, Design and Construction, for the General Services Administration.
Van Cleve served as Associate General Counsel for the Peace Corps from 1961 to 1963. From 1963 to 1965, he was Assistant General Counsel in the Procurement Division of the General Services Administration, and from 1965 to 1969 he was General Counsel of GSA.
From 1969 to 1971, Van Cleve was Regional Counsel for Region 3 of GSA, and in 1971 he became General Counsel of the Cost Accounting Standards Board. He is married and the father of three children. He resides in Alexandria, Va.
McQuillen is counsel to the House Banking, Finance and Urban Affairs Committee. He was born in Buffalo, N.Y., on August 21, 1943. He received a B.S. degree in business management from Canisius College in 1966 and a J.D. degree from St. Mary's Law School in 1972.
In 1972 and 1973, McQuillen practiced law in San Antonio, Tex., with the law firm of Nicholas and Barrera. From 1973 to 1975, he was an attorney and advisor for the Board of Immigration Appeals.
In 1975 and 1976, McQuillen served as counsel for the Oversight and Renegotiation Subcommittee of the House Committee on Banking, Currency and Housing. In that capacity he conducted oversight hearings on the Renegotiation Act and wrote the first major reform of the act in its 25-year history. He also conducted oversight investigation of the Renegotiation Regional Boards located in Los Angeles and Washington.
McQuillen is married and resides in Falls Church, Va.
Jimmy Carter, Renegotiation Board Nomination of Harry R. Van Cleve and William F. McQuillen To Be Members. Online by Gerhard Peters and John T. Woolley, The American Presidency Project https://www.presidency.ucsb.edu/node/242989