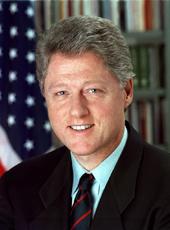 Remarks With Prime Minister Edouard Balladur of France and an Exchange With Reporters in Paris
The President. The Prime Minister and I had a very good meeting, and we just had a wonderful lunch.
We discussed a large number of topics. But the things I think I should emphasize are first, our common commitment to complete the GATT round and to continue the work of broadening and expanding trade as a way of promoting economic growth; second, our desire to use the G-7 meeting which is coming up as a way of dealing with some of the difficult questions that the wealthier countries have to face in a global economy, the questions of labor standards, of environmental protection, the question of how to generate new jobs for our people. These are questions, in many ways, that advanced economies have never seriously discussed with one another. We are attempting to do that.
We also, of course, discussed our common concerns in the area of foreign policy. And we reaffirmed our determination to work together very closely on the question of Bosnia to try to first encourage both sides to support Mr. Akashi's proposal for a cease-fire and secondly to support the work of the contact group in attempting to come up with an appropriate division of territory, which can be the basis of a lasting settlement there. We intend to be as supportive as we can. We can work on the cease-fire, and we have to await the final results of the contact group on the territorial recommendations.
On balance, I felt it was a very good meeting. I reaffirmed the support of the United States for a stronger, a more integrated, more involved Europe in terms of security, political, and economic affairs. And in that regard, the last point I would like to make is how pleased I am that 19 other nations have agreed to join France and the United States and the other NATO nations in the Partnership For Peace. This is very encouraging. We should have some joint exercises before the end of the year, which will put us on the road to a more united Europe, in a very important security dimension.
So these are the things that we discussed. We discussed other things as well, but these are the highlights from my point of view. I'd like to now have the Prime Minister say whatever he wishes to say, and then perhaps we can answer a question or two.
Prime Minister Balladur. The President of the United States has just said, with great precision, exactly what we actually talked about. And I, we agreed on the importance of the fact that the trade negotiations should lead speedily to arrangements which would take into account the questions of labor and social legislation in various parts of the world. And the President suggested that we should ask experts to deal with these problems, and I, of course, immediately agreed.
Secondly, we stressed the importance for Europe and for the whole world of the nuclear safety issue, with particular reference to the Ukraine, and steps that should be taken to ensure that the situation there should not get worse, which would also have an impact on a number of other European countries.
Those, I think, are the main points that we talked about. But in addition, we had a very friendly conversation. If I may say so, Mr. President, I think we can say it was also a fruitful one. We, of course, reaffirmed the great importance and strength of the friendship between our two countries.
North Korea
Q. Mr. President, did you discuss North Korea at all, or sending a special emissary to Seoul?
The President. We did discuss North Korea, of course. And I reaffirmed the position of the United States that the Security Council must take up this question and consider a sanctions resolution.
I believe that the Prime Minister agrees with that position. You might want to ask him, but I was very satisfied with the response with regard to North Korea. Of course, France's position on this is pivotal, since it is one of the permanent members of the Security Council.
Prime Minister Balladur. I agree that nonproliferation is an extremely important aim, both for the United States and for France. And I assured the President of our support for a Security Council resolution.
Europe-U.S. Relations The President. Is there a French question?
Q. Yes, sir, thank you. Mr. Prime Minister, are you satisfied with President Clinton's position on Europe and the relations with France? Are you reassured after one year of American foreign policy about which we said that it was a rather uncertain one?
Prime Minister Balladur. I am not reassured, because I wasn't in the least worried. I have full responsible confidence in the United States administration and President Clinton's administration. Now, naturally, we don't necessarily see everything exactly from the same viewpoint, and the opposite would be extremely surprising. But we do share the common aim of peace and security worldwide.
And I would like to add that I found in President Clinton a great openness of mind and a great appreciation of European problems and the need that Europe should organize itself better, and indeed, he made this point at the end of the luncheon. So I think that most of the causes that could possibly earlier have led to difficulty in understanding each other's viewpoint have, in fact, disappeared.
The President. Thank you.
NOTE: The President spoke at 3:20 p.m. at the Hotel Matignon. Prime Minister Balladur spoke in French, and his remarks were translated by an interpreter.
William J. Clinton, Remarks With Prime Minister Edouard Balladur of France and an Exchange With Reporters in Paris Online by Gerhard Peters and John T. Woolley, The American Presidency Project https://www.presidency.ucsb.edu/node/219287