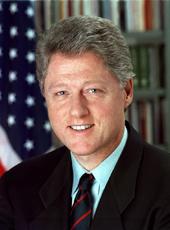 Remarks With President Jacques Chirac of France on the G-7 Response to Terrorism and an Exchange With Reporters in Lyons
President Chirac. Ladies and gentlemen, this press point is, in fact, to explain to you that we changed our agenda at the G-7. We all together were united in condemning the dreadful bombing that has taken place and the fact that the United States and Saudi Arabia have fallen victim to this appalling event. We expressed our deepest sympathy to the President of the United States and the people of the United States as well. And we decided to place terrorism on our agenda as the very first point for discussion and to prepare a communique in order to fight this scourge. This is a communique which you will be receiving at the close of this pre-press conference, so that you can see the top priority that we assign to fighting terrorism.
We've also agreed to convene a ministerial conference in about 3 weeks time which will be attended by the ministers of foreign affairs and ministers responsible for security at the level of the eight countries meeting here. And this is all designed to identify the steps which will bolster our fight against terrorism.
President Clinton. I want to thank President Chirac and my other G-7 colleagues for their very powerful statements and their expression of sympathy to the victims and their families.
We have once again stood united against terrorism. We understand that an attack on one of us is an attack on all of us and that none of us is invulnerable. Attacks of terror can occur anywhere, whether in a Paris metro station or in Manchester or the subway in Tokyo or the World Trade Center or the Oklahoma City Federal Building. This latest act of outrage reminds us of one of the great burdens of the modern world.
As we become more open, as our borders become freer to cross, as we can move information and money and people and material across national boundaries more quickly, we all become more vulnerable to terrorists, to the organized forces of destruction, to those who live to kill for ethnic or racial or religious reasons, especially. And I want to emphasize that I am convinced that the G-7 leaders are every bit as determined as I am to take stronger action.
In the next day or two we will be discussing, as I said earlier, 40 specific actions we can take to try to protect our borders, to try to stop the illegal weapons trade, to try to stop the money laundering and illegal currency transactions, to try to protect the witnesses and others who support our efforts to crack terrorists and their operations. And then President Chirac, in suggesting this ministerial, has given us the chance to try to come up with even more specific steps that will involve, we hope, even more people rallying to our cause.
This is a very sad day for the United States. I have been very moved by the deep and genuine expressions of condolence by the President of France and the other leaders here. But I have been even more moved by the determination that they have shared with me in common to take stronger stands against terrorism, to prevail and not to give in. That is the message we want to go out to the world tonight.
Thank you.
Terrorist Attack in Saudi Arabia
Q. Mr. President, is there anything tonight that you discussed that might have an effect on the type of bombing that took place in Saudi Arabia, any difference in approach that that bombing——
President Clinton. Well, among the things we are looking at, for our next statement on this and for the ministerial meeting, is the question of whether we can do more to help each other protect our people against larger and more powerful explosives, and perhaps even more important, whether we can do more to detect them.
If you will recall, when we had the terrible bomb explosions in Israel several weeks before the election, one of the things that I did was to send to the people of Israel the latest detection equipment that we had to try to aid them in finding people who had explosives on their persons or in their cars. And we believe that made a contribution to their endeavors.
So one of the things that we are going to do is to try to figure out how much more we can do in the area of prevention and how much more we can do in the area of detection of explosives, which are becoming the weapon of choice for terrorists all around the world.
Extraterritorial Impact of Sanctions
Q. President Clinton and President Chirac, in your discussions this evening did Helms-Burton and the pending legislation involving Libya and Iran come up, and if so, did you detect any change of views on the subjects?
President Clinton. We did not discuss that at all. Thank you.
NOTE: The President spoke at approximately 10:50 p.m. at the Prefecture. President Chirac spoke in French, and his remarks were translated by an interpreter. A portion of this exchange could not be verified because the tape was incomplete.
William J. Clinton, Remarks With President Jacques Chirac of France on the G-7 Response to Terrorism and an Exchange With Reporters in Lyons Online by Gerhard Peters and John T. Woolley, The American Presidency Project https://www.presidency.ucsb.edu/node/222559