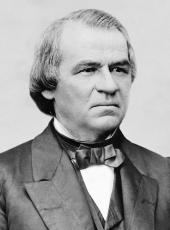 Remarks with General Otman Hashem of the Bey of Tunis
EXCELLENCY: His Highness the Bey of Tunis, my august sovereign, presents to your Excellency his warmest greetings and the respectful homage which is due to your exalted position. He has sent me to appear in your presence for the purpose of expressing to your Excellency and to your people the great pleasure which he experienced on the cessation of your calamitous war, and on the restoration of peace and tranquillity in your great country. My august sovereign has also instructed me to present to your Excellency expressions of condolence for the tragic end of the illustrious man, Abraham Lincoln, whose death justly excited national grief and exceedingly affected his Highness. We ardently hope and pray that with this event may end the misfortunes of the United States. In view of the friendship which unites the two countries, his Highness the Bey sends to your Excellency his portrait as a souvenir of his friendship, for the augmentation of which, between our respective people, his Highness has a lively interest and a warm desire. I feel myself flattered and exceedingly fortunate that the choice of his Highness has fallen upon me to accomplish this important and honorable mission, whose success I should regard as one of the noblest results of my life. I take pleasure in stating on this occasion, in the presence of your Excellency, that since my arrival in this country I have everywhere received the most cordial and flattering greetings, and the liveliest expressions of sympathy for my country, for which I am duly grateful.
The President replied:
GENERAL: This inauguration of national courtesies between the old continent of Africa and the new continent of America seems to us to be suggestive, and we trust that it is auspicious. I am glad that Tunis has sent us an envoy, and am especially pleased that you have been chosen by his Highness the Bey to be that minister. You are favorably known to us as a soldier and a scholar, and, above all, as a statesman devoted to the extinction of slavery. You will be able to report to his Highness the Bey that the American nation are trying a humanitarian experiment. It is nothing less than this: Whether a people can have liberty and at the same time govern itself The events, pleasing and painful, to which you have referred in your speech, and to which your Government has referred so kindly in your letters of credence, were incidents of this great trial. We have accepted them as such; and while we thank God that He has saved us from the calamities which were threatened us by great crimes, we thank Him for having inclined the nations of the earth to interpret these crimes and their consequences so justly. We humbly trust that our success will be beneficent, not only at home, but throughout the world; because it will give assurance that although war and conquest are so directed by Providence as to produce beneficent effects, yet that benevolence and peace are even better agencies to promote the progress of civilization. The portrait of the Bey which he has sent us, besides being interesting to us as the likeness of a national friend, is valuable too as a work of art. It is received with satisfaction, and Congress will be apprised of the gift. The Executive Government will endeavor to make your sojourn agreeable, as it will at all times be pleased to know the wishes of your Government.
Note: The Embassy from the Bey of Tunis was presented by Secretary William H. Seward to the President in the Blue Room of the Executive Mansion.
Source: John Savage, "Life and Public Services of Andrew Johnson".
Andrew Johnson, Remarks with General Otman Hashem of the Bey of Tunis Online by Gerhard Peters and John T. Woolley, The American Presidency Project https://www.presidency.ucsb.edu/node/355908