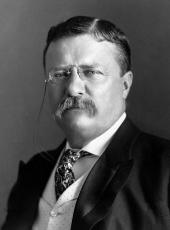 Remarks in Wichita Falls, Texas
I know this country well. It is just twenty-five years ago that I first went into the great West, the real West, up beyond the Missouri in North Dakota. At that time I saw great stretches of level prairie without a house, where now there are thriving towns, but I do not know that I have ever seen any greater transformation than from what I am told has been taking place during the same time in your own country. I have now been traveling for four days through Texas. I want to congratulate you on the enterprise and forethought you have shown in your irrigation scheme here. What you have done is not only of very great importance to this community, but it is of the utmost importance by way of example to all of our Western people. I have had the good fortune to spend many years of my life in the Western country. When I became President, one of the first things to which I devoted my attention was to try to bring about a fuller plan of irrigation, for the reclamation of agricultural lands in the semi-arid regions. I naturally take a particular interest in what you have done in that regard. The welfare of the great Western country, and that means in its essence the welfare of the United States as a whole, depends upon the encouragement given to the homemaker, that is the crop we want to grow, the crop of home makers. The men who really can conquer this continent for the Republic are men like Mr. Burnett and the others who have come out here when there was a frontier, out into these lands of the Indian and the Buffalo, and there made ready the way of civilization that we now see before us. Great is our debt of obligation to those men. I came down to Texas several years ago to help raise my regiment and when we returned from Santiago I told the men that we would surely have to have a reunion of the regiment at San Antonio under the walls of the Alamo, where the regiment had been raised. At last the time came when I could arrange to have the regimental reunion and at the same time visit your great and wonderful State.
I admire Texas not only for its wonderful material advantages, for its agricultural, pastoral and industrial resources, but above and beyond all of this, for the character of its citizenship, for the character of its men and women. I have been received in Texas in a manner for which I can not sufficiently express my gratitude and appreciation. We look at this country of ours not as something that is to last only for a few years, but we feel that this great Republic is going to last through the ages. We are trying here in America on the largest and most complete scale that it has been tried, the experiment of having a free people govern itself by itself and for itself. We are bound to make a success of it, not for our sakes, but for the sake of mankind. The cause of free government throughout this land would be shaken to its foundation if we fail here. We can succeed only by seeing to it that the children, the boys and the girls, who in ten or fifteen or twenty years will be the men and women who will then control affairs, are so trained that they can do their part well in the work of self-government under free institutions and congratulate you upon what you have done and are doing in this regard.
Theodore Roosevelt, Remarks in Wichita Falls, Texas Online by Gerhard Peters and John T. Woolley, The American Presidency Project https://www.presidency.ucsb.edu/node/343722