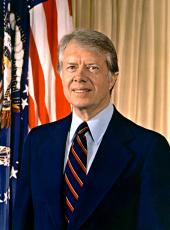 Remarks at a White House St. Patrick's Day Celebration
THE PRESIDENT. We are honored tonight to have all of you, of course, but particularly to have the Foreign Minister of Ireland. Would you come on up?
MR. LENIHAN. Yes.
THE PRESIDENT. Great. Thank you very much.
MR. LENIHAN. I am very pleased, Mr. President, to present you with a vase of Irish shamrock. It comes straight from the old sod, and it is presented to the President of the United States of America by the Irish Government for whom I have the honor to act in this respect. And a shamrock presentation on St. Patrick's Day is designed to bring great good luck to the recipient.
And to Mrs. Carter, whom I admired today in the St. Patrick's Day parade in New York—I said to myself, "Well, if the President is a good politician, there is a better one." [Laughter]
THE PRESIDENT. Since the shamrock from Ireland brings good luck to everyone, Millie, why don't you take some of it and pass back and let everybody have a piece. This is genuine—and, Rosalynn, you keep your eye on the vase. [Laughter] I've learned a little about the Irish since I've been— [laughter] —
Well, it is an honor for us to have you here on this delightful celebration of St. Patrick's Day. We had the opportunity to shake hands with all of you and to let you feel welcome here at the White House.
The shamrock, as you know, not only has a sense of symbolism to bind all people together on St. Patrick's Day but it also has a deep spiritual significance, not only to those who still live in Ireland but to those whose ancestors lived there and have gone to different places on Earth, particularly to the United States, to build our country into an even greater place. We are grateful, too, that we had a chance to build a special, large shamrock in front-maybe one of the largest ones that's ever been in the White House, at least the last 3 years.
And when I've been in the St. Patrick's Day parades in different places around the Nation, but particularly in Savannah, Georgia, I've always noticed a spirit of brotherhood and affection and excitement and joy and a kind of sense that there's a special pleasure in life that ought to be nurtured and brought out to the surface at least once a year, and kept there the whole year if possible. And if anybody knows how to do it, it's the Irish. And I'm glad St. Patrick's Day comes along to remind all of us Irishmen that we can do it and maintain it.
We have a special honoree tonight. The sons of the O'Neill clan were kings in Ulster in ancient days. We have one of their sons here with us tonight as the man that we are honoring. He's a common man. He represents a lot of common Americans who look to him for leadership and also see within him not only a sense of leadership but humility. He's an uncommon leader. He's the Speaker of the House of Representatives of the United States of America, Tip O'Neill. Tip, we're glad to have you.
To those of you who are here from foreign nations, you may not know that the Speaker of the House of Representatives enjoys a very special place under the United States Constitution. He not only presides over 435 Congress Members from all over our Nation but is the third in line of succession to the Presidency itself. It's a distinguished position. It's one that is being formed into kind of a custom in our Nation, a tradition of letting Massachusetts Irish politicians hand it down from one to another. [Laughter] John McCormack handed it down to Tip O'Neill, with one brief interlude, and this is the kind of custom that appeals to all Irish leaders, no matter where they might live.
We have a sense, though, that it needs two things: One is longevity—which Tip certainly has—and the other one is the ability to survive in a tough political environment and to build up political seniority. It's a kind of commitment that should be nurtured by all Americans. And I'm particularly hopeful that all the Irish politicians of Boston will be able to keep their present position for a long time in the future. [Laughter]
There's another special person here tonight—one that I admire and one that I love. Tip has loved her longer. They've been married now for about 40 years, and I'd like to introduce Millie. I understand that this is the first time in the 40 years that Millie has ever seen Tip sober on St. Patrick's Day. [Laughter] As a matter of fact, this is the first time in 40 years that Tip O'Neill and Millie have ever been together on St. Patrick's Day evening. Right, Tip? Right, Millie? [Laughter] At least before the wee hours of the morning. [Laughter] And we're particularly grateful that we were the ones to break up that tradition of being apart on St. Patrick's Day evening. He's been remarkably well behaved tonight so far, and I'm indeed grateful that Millie's here to help me chaperone this evening.
We have also a special program now, one that could not do other than appeal to all people who have Irish blood or Irish ideas on St. Patrick's Day evening. The Irish American contribution to America is broad and exciting and delightful and appreciated by all those who live in our great land. I won't go into the great contribution of architecture and sports and politics tonight, but in culture and music we particularly want to recognize the Irish American contribution tonight..
How many of you know the famous Irish motion picture director—perhaps the greatest who ever lived—Sean Aloysius O'Feeney? You know? How many of you know him—would you raise your hands? Anybody? Two hands. [Laughter] Three hands. He's known by most of us as John Ford. And he made, as you know, some of the great movies of all time and really learned how to make the western movie into a genuine work of art.
One of his famous and favorite actors was named Marion Morrison. How many of you know who Marion Morrison is? A little bit better. John Wayne, right. Not all the Irish who came over here went under a pseudonym, and we're glad that I can mention a few more right now. I think John Wayne is probably the favorite actor of our time. He's a man who is beloved. Recently the Congress authorized the striking of a special medal to commemorate what John Wayne has meant, not only to our Nation but to the world. And we'll be giving that award here—I, as President, on behalf of the Congress—when the medal has been completed.
Eugene O'Neill, perhaps the greatest American playwright. F. Scott Fitzgerald, an author who brought into the realization of Americans' minds what the jazz age meant, but made it a perpetual contribution to American literature. Edwin O'Connor, one of Tip's and my favorite authors, who wrote "The Last Hurrah." Tip recommended it to me several years ago. I studied it. [Laughter] It seemed to work for me everywhere except in Boston. [Laughter] And perhaps one of Georgia's greatest authors and contributors to the American literary scene, Flannery O'Connor.
Daniel Decatur Emmett—how many of you know who Daniel Decatur Emmett is? He wrote a very wonderful song for-James Dickey knows who it is. Let me ask James Dickey to stand up—one of the greatest poets alive today, and the only person in the audience who knew that Daniel Decatur Emmett wrote "Dixie." Thank you, Jim.
And George M. Cohan, another Irish American, who wrote "Yankee Doodle Dandy." And another tough movie performer, who brought George M. Cohan to the screen. Anybody? Jimmy Cagney, right. Well, I could go on and on, but I won't because I want to save time for a wonderful program tonight.
The Irish not only contributed words and music but also wit. One of the great leaders who preceded me here in this White House, John F. Kennedy, was asked one time, "What is your favorite song?" He said, "Well, I think 'Hail to the Chief' has a certain lilt to it." [Laughter] That's not the only thing he and I have in common, by the way. [Laughter]
Well, it would be hard to describe what made the Irish great. I think perhaps love of the land is a tradition that was brought here from Ireland and has permeated the consciousness of America. A deep religious faith is unshaken and a characteristic of the Irish; a love of a stable family and a realization that our society is built on that close family relationship; a love of life. These are the kinds of ideals and traditions which we have seen transplanted to our soil. And they have been nurtured and they have thrived.
And I am very grateful tonight to bring to a close my own introduction of the program and my expression of thanks to the Irish by giving a well-known toast, which Tip can recite verbatim: "May the road rise up to meet you, Tip. May the wind be always at your back. May the sun shine warm upon your face, and the rains fall soft upon your fields. And until we meet again, may God hold you in the palm of his hand, and may you be in heaven a half-hour before the Devil knows you're dead." God bless you.
Note: The President spoke at approximately 8:15 p.m. in the East Room at the White House.
Jimmy Carter, Remarks at a White House St. Patrick's Day Celebration Online by Gerhard Peters and John T. Woolley, The American Presidency Project https://www.presidency.ucsb.edu/node/250087