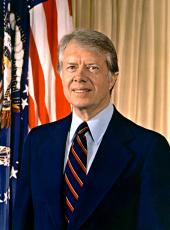 Remarks at a White House Picnic on Labor Day
Rosalynn and I just came back from Georgia. We escaped from all the killer rabbits down there— [laughter] just in time to join you for a delightful picnic and some wonderful entertainment.
We've had a good vacation. We have been down the Mississippi River. We had a few days at Camp David. We went down to Atlanta, to Tampa, to Plains. And everywhere I went, my confidence in this Nation was strengthened. I began to see more and more clearly that my basic belief in the strength of our country is well justified—not only our military and economic strength and political strength but our ethical and moral strength. The spirit of our country is still intact.
Every time we had a chance to talk to a few people, even some tonight as I came through the crowd, there was a hope that our Nation might be more unified. Sometimes when a country or a community or a family experiences a difficulty or an inconvenience, people try to grasp for some special advantage for themselves just to make sure they don't get left out. And in the process, we lose sight of the overall benefit to us if we work together, if we are just a little more unselfish during a time of trial or tribulation or test or doubt, as we are today.
We've got a great country, and part of that greatness has been that every time we've been tested in the past, we've been drawn closer together. And I can say that the working people of our country, the labor movement, the trade unions, have always been in the forefront when there was a dynamic struggle to make our Nation greater in time of peace, especially in time of war.
One of the most difficult peacetime struggles that ever took place in perhaps any country was the great civil rights movement in our own generation. And in the forefront of that movement, helping the minority groups, was the enlightened civil rights and labor movement, working together. And, of course, nowadays the labor leaders and the members of organized unions again are in the forefront of' the changes that are dynamic and are difficult in our country.
Times are not easy. Neither our Founding Fathers nor our immediate mothers and fathers ever promised us that freedom would be easy. But they have told us that in a country like ours the struggle for freedom is worthwhile. Freedom itself, individual liberty, the strength of our country, the cohesion of our country, the progress of our country, the kind of life that we have, our individualism, the right to be free, the right to be different is worth whatever struggle it might require from us.
A few weeks ago I was at Camp David trying to decide in my own mind, as President of our country, what was the essence of the test put on us by the energy question. And Lane Kirkland1 was sitting in a conference room at Camp David on my left, and he summed it up, I think, better than anyone that came to Camp David, about 150 people. He said, "Mr. President, the issue is freedom."
Our country now has its own basic security threatened because we have become excessively dependent on foreign oil. It's something that kind of happened. We didn't plan it that way. And we've now finally begun to face up to it. We get about half our oil from overseas. And you saw what happened to us back in 1973, 1974, when some of the oil-producing countries declared an embargo against us. And now we're even more dependent on foreign oil than we were in 1973.
But the Congress has begun to act slowly, but I think with courage, and this year my hope is that the President and you and the Congress can prevail and that we can have for the first time in our Nation's history a comprehensive energy policy, one of which we can be proud, one that spells out a road down which we can march together, with our basic freedoms intact and our Nation's security restored.
We can do it in two ways, very simple. One is to save energy, to conserve, to quit wasting energy. And that's something that the Government can't do. We can help. But that requires every American figuring out in one's own mind, "What can I do in my life, in my transportation, in my home, in my job, to save energy?" And the other thing is to produce more energy in our own country—oil, gas, coal, solar energy, geothermal supplies, synthetic fuels.
The production of that energy in our country would let us cut down on the importing of oil from overseas. And in this effort the labor movement is increasingly involved and increasingly supportive, because we not only will become energy secure but will have funds with the windfall profits tax to take care of those poor families or middle-income families that find the burden of increased energy costs too severe, and in the process we can have a better transportation system and a better life.
I don't look on conservation or saving energy as a burden or an unpleasant sacrifice. It can be an inspirational thing. It can be an enjoyable thing. It can bring families together. It can bring communities together. It can make us proud of ourselves. It can restore patriotism, because when we do this, we help ourselves, we save a lot of money, it requires cooperation, and it helps our Nation.
We also have other things that I'll mention very briefly. We want peace. I thank God that in the last 2 1/2 years we've not had a single American lose his or her life in combat anywhere in the world. And I would like to go out of office after I've served as President with that record still intact. We want peace.
We also want to control nuclear weapons. And I'm very grateful that the great labor organizations represented here have endorsed the SALT II treaty, which the Senate is now considering.
We also need a national health insurance program. And I know that you know that this has been something that every President has espoused or at least talked about since Harry Truman was in office. It hasn't yet come into being, but the Congress now has a proposal which, when passed, will have implemented by 1983 a national health insurance program, comprehensive health coverage for our Nation. It's a major social challenge.
Well, the point I'm trying to make is that there has to be a degree of harmony, a degree of cooperation. And in all the enlightened social progress for which we have struggled in the past and for which we are struggling now, none of which is easy, the labor movement has been in the forefront. I'm grateful for your help and grateful for your support.
I listen very carefully. A few minutes ago I was on the telephone with Mr. George Meany,2 my friend. I wish he could be here tonight. He was planning to come, but he has just a slight virus attack. He had a little fever last night, and because it was threatening rain, he and I both agreed it might be better for him not to come out tonight.
But he's a fine man. He was kind of reading me my report card on the telephone. [Laughter] He said if I wouldn't tell what was on it, he wouldn't tell either. [Laughter]
But there are three things that a President always has in mind, you know—national security, always present; the Congress, always present; President George Meany, that's the third one. [Laughter]
And I think he and the other great labor leaders have been a stabilizing and an inspirational factor for all the Presidents who have served, either Republican or Democrat. And I'm sorry he's not here tonight, but it is a great time, I think, for all of us maybe to express our admiration of President George Meany by a round of applause. And I'm sure that Lane Kirkland will tell him about it. [Applause]
Now I just want to introduce two more people. One is a great Secretary of Labor, Ray Marshall. Ray, we are proud to have you tonight.
And the other one is the young man who's going to entertain us tonight. I was in Hannibal, Missouri, with Rosalynn and Amy and a group of folks on the Delta Queen a couple of weeks ago, and we were watching a little skit put on by Tom Sawyer and Becky Thatcher and Aunt Polly and Huckleberry Finn. And one of the things that Tom Sawyer did was kind of philosophize. And he said that work was something that a body is obliged to do, and recreation is something that a body does When he is not obliged to do it.
Well, I think one of the great things about the trade union movement that has made you great are the things that you were not obliged to do. And I've been impressed with your unselfishness, the fact that many times you would take a stand or espouse a cause or fight a battle when there's not any direct benefit in it for you, but there's a benefit for others who are not quite so secure or quite so organized or quite so prosperous. But you fight those battles and join those struggles, because you know that it'll make our Nation even greater. And as President of a wonderful country, we wanted to have, Rosalynn and I, this picnic just to express the thanks of a grateful nation to you. Thank you and God bless you.
Now I know you're all going to enjoy hearing Stephen Wade, a fine young man, give us some entertainment, part of which is about Mark Twain and Huckleberry Finn or Tom Sawyer. I haven't seen it yet, but I hear he is really great, and we're all delighted to have him. Stephen Wade.
Thank you very much. Have a good time,
1 Secretary-treasurer of the AFL-CIO.
2 President of the AFL-CIO.
Note: The President spoke at 7:30 p.m. on the South Lawn of the White House to representatives of labor organizations.
Jimmy Carter, Remarks at a White House Picnic on Labor Day Online by Gerhard Peters and John T. Woolley, The American Presidency Project https://www.presidency.ucsb.edu/node/249441