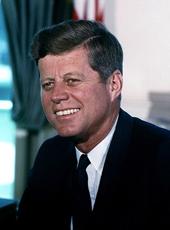 Remarks at a White House Musical Program for Youth.
WON'T YOU be seated? It is a great pleasure to represent Mrs. Kennedy on this occasion to welcome you all to the White House, particularly those boys and girls from the Greater Washington Area who are themselves students of music and who, we hope, some day will be playing here also.
We are very glad to welcome our friends from Kentucky. Their talent was brought to Mrs. Kennedy's attention by Mrs. Cooper, who, with Senator Cooper, and Congressman Watts, and Congressman Siler are with us today. This is the sixth of a series of concerts which, I think, have brought home to the people of Washington, and I hope to the country, what an extraordinary cultural surge is taking place in the United States in these days and years.
We are a very self-critical society. It is one of the factors of freedom which we value the most. But I think we should also remember that this great country of ours is not only productively strong, but also has within its borders men and women who take advantage of the freedoms which have been won for us and are maintained for us to develop themselves as individuals. We read more books than any other country. Nearly 60 million books were published last year, most of them on serious subjects.
We have a good many television sets, but also those television sets receive programs from nearly 70 educational televisions which are maintained by private citizens across this country which carry with them strong educational overtones. We have more people going to traveling art shows than any country in the world. We are, even though we hesitate to admit it, a cultured people and I hope we will be more so.
When we use that word, we use it in the sense--really in the Greek sense--of the full man and woman living in a full system of freedom who develops his own resources and talents and in so doing serves the greater good of all of our people.
So we are glad to have you here today, particularly these young men and women from Kentucky. The students from Berea College, who are going to dance, have represented the United States in Latin America and other places and shown the people abroad something of the very ancient and still modern quality of American life and folk dancing. And we are glad to have the members of the Symphony from Central Kentucky who represent the cream of musical talent, who represent a series of elimination's which have brought them here to the White House.

So, all in all, ladies and gentlemen, it is a very happy occasion for me to tell you that we are glad to have you, to tell you that "Hail to the Chief" was played with great distinction, and to wish you many more years of musical success. It makes us feel better about this country to see you all here today.
As I have other responsibilities I will listen from my office and, as I have on previous occasions, I will keep the door very wide open.

Thank you.
Note: The President spoke on the South Lawn at the White House. The Berea College Country Dancers, under the direction of Miss Ethel Capps, and the Central Kentucky Youth Symphony Orchestra, conducted by Joseph Pival, entertained more than 1,100 guests in the sixth of Mrs. Kennedy's "musical programs for youth by youth."
John F. Kennedy, Remarks at a White House Musical Program for Youth. Online by Gerhard Peters and John T. Woolley, The American Presidency Project https://www.presidency.ucsb.edu/node/235788