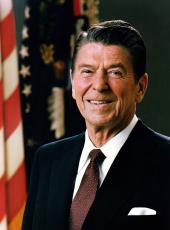 Remarks at a White House Kickoff Ceremony for National Drug Abuse Education and Prevention Week
The President. Well, it's good to see all of you here today as we kick off National Drug Abuse Education and Prevention Week. On March 6, 1981, in my second press conference as President, I said that to be effective in stopping illegal drugs we had to focus on the user. And today our national crusade against the use of illegal drugs is gaining a powerful momentum.
All of you who have stood at the frontlines in our fight against drug abuse for the past several years have watched our numbers growing. Thousands have come forward and volunteered; many are here today. The commitment that each of you brings to our nation and our future is a powerful force for good that no one should underestimate. The will of the American people is being heard. We will no longer watch as illegal drugs infiltrate our schools, invade our factories, and terrorize our citizens. We will no longer tolerate this insidious evil threatening our values and undercutting our institutions.
Parents across the nation have led the way in an unyielding attack on drug abuse. Aggressive corporate and school measures to end drug abuse have met with strong support from workers, students, and the community. The media has focused its spotlight on the issue, and the private sector is pitching in to raise awareness across our nation to the perils of drug abuse. Most importantly, our young people, encouraged by a growing public outcry and their own strength of conviction, are forming peer-support groups in opposition to drug use. The expansive efforts by all levels of government, by the business community, by civic and social organizations, and most importantly by concerned individuals are making a difference. After 5 years of aggressive enforcement and a massive public awareness campaign, public attitudes are clearly against the use of illegal drugs and drug awareness is at an all-time high.
A new understanding is evident: Drug abuse is not a private matter. Using illegal drugs is unacceptable behavior. And the costs are paid by all of society. There's still much to be done. Misconceptions and misunderstanding still exist. There are those who will still debate whether marijuana is dangerous or whether cocaine can kill or whether illegal drugs are really a threat to our nation. But increasing numbers of individuals are looking at the facts, and the facts are simply not debatable: Illegal drugs are deadly. We are on the right track. Slowly the wall of denial is crumbling down, and we've come to the time when the American people are willing to make it clear that illegal drug use will no longer be tolerated.
I'm proud to say that from the early days of our administration, Nancy's been involved in a personal crusade to end drug abuse by children. She set the tone for the national crusade against drug abuse when she said: "There is no moral middle ground. Indifference is not an option. We want you to help us create an outspoken intolerance for drug use." Did I get it right? [Laughter]

Mrs. Reagan. Yes, you got it right.
The President. Earlier today I signed a proclamation designating the week of October 5th through October 11th as National Drug Abuse Education and Prevention Week and today, October 6th, 1986, as National Drug Abuse Education Day. I'm calling on each American to seek every opportunity to educate yourself and others about drug abuse, to be strong in your intolerance of illegal drug use, and firm in your commitment to a drug-free America. We must show our intolerance for illegal drugs. And it's only by being tough that we can be compassionate, that we can reach out to the user and force him to quit using. It's only by being tough that we can say to the potential user: Do not ever start.
As we begin National Drug Abuse Education and Prevention Week, the Federal Government is also entering into the spirit of the national crusade for a drug-free America by working toward a drug-free workplace. I'm forwarding a memorandum to the head of all executive departments and agencies, along with my personal communication to each and every executive branch employee, calling upon them to take a leading role in eliminating the use of illegal drugs. And this includes doing all in their power to increase public awareness and prevention of drug abuse.
I strongly believe that if this battle is to be won—and it must be won—each and every one of us has to become aware of the tremendous cost of illegal drugs and then take a stand and get involved. Our stand may be as simple as not tolerating illegal drug use at a party or as complex as implementing a strong drug-free policy for a major corporation. Both approaches are effective and both are essential. When we all come together, united and committed, then those who are killing America and terrorizing it with slow but sure chemical destruction will see that they are up against the mightiest force for good that we know: the compassionate, but firm, resolve of the American people. And then they will have no dark alleyways to hide in.
So, the week has started, and the crusade is on. And thank you, and God bless you all. Thank you.
Reporter. Mr. President, is Mrs. Reagan going to Iceland?
Q. Are you going to Iceland?
Q. Is Mrs. Reagan going to Iceland?

The President. No.

Mrs. Reagan. No.
Q. Why not? [Laughter]
Q. Mrs. Gorbachev will be there.
Q. The women are interested in the topics of the summit, are they not?
Q. How do you feel, Mrs. Reagan?

Mrs. Reagan. Fine, thank you.
Note: The President spoke at 10:50 a.m. in the Rose Garden at the White House to a group of administration officials and private citizens involved in drug abuse prevention efforts.
Ronald Reagan, Remarks at a White House Kickoff Ceremony for National Drug Abuse Education and Prevention Week Online by Gerhard Peters and John T. Woolley, The American Presidency Project https://www.presidency.ucsb.edu/node/255389