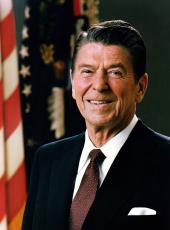 Remarks at a White House Ceremony in Observance of National Day of Prayer
We thank the Chaplain of the Senate for that blessing. It's an inspiration for me to see all of you—Protestants, Catholics, members of the Jewish faith, and others who are gathered here at our national home to pay homage to the God in whom we trust.
Many of you are leaders in your faith; others are active in your communities, your professions, or are among our elected representatives. But all of us are here with a common purpose: to observe on National Day of Prayer, a tradition that was begun by the Continental Congress—that the first Thursday of May would be such a day.
Prayer has sustained our people in crisis, strengthened us in times of challenge, and guided us through our daily lives since the first settlers came to this continent. Our forbearers came not for gold, but mainly in search of God and the freedom to worship in their own way.
We've been a free people living under the law, with faith in our Maker and in our future. I've said before that the most sublime picture in American history is of George Washington on his knees in the snow at Valley Forge. That image personifies a people who know that it's not enough to depend on our own courage and goodness; we must also seek help from God, our Father and Preserver.
Abraham Lincoln said once that he would be the most foolish man on this footstool we call Earth, if he thought for one minute he could fulfill the duties that faced him if he did not have the help of One who was wiser than all others.
The French philosopher Alexis de Tocqueville, visiting America a hundred and fifty years ago, marveled at Americans because they understood that a free people must also be a religious people. "Despotism," he wrote, "may be able to do without faith, but freedom cannot."
Today, prayer is still a powerful force in America, and our faith in God is a mighty source of strength. Our Pledge of Allegiance states that we are "one nation under God," and our currency bears the motto, "In God We Trust."
The morality and values such faith implies are deeply embedded in our national character. Our country embraces those principles by design, and we abandon them at our peril. Yet in recent years, well-meaning Americans in the name of freedom have taken freedom away. For the sake of religious tolerance, they've forbidden religious practice in our public classrooms. The law of this land has effectively removed prayer from our classrooms.
How can we hope to retain our freedom through the generations if we fail to teach our young that our liberty springs from an abiding faith in our Creator?
Thomas Jefferson once said, "Almighty God created the mind free." But current interpretation of our Constitution holds that the minds of our children cannot be free to pray to God in public schools. No one will ever convince me that a moment of voluntary prayer will harm a child or threaten a school or State. But I think it can strengthen our faith in a Creator who alone has the power to bless America.
One of my favorite passages in the Bible is the promise God gives us in second Chronicles: "If my people, which are called by my name, shall humble themselves and pray and seek my face and turn from their wicked ways, then will I hear from heaven and will forgive their sin and will heal their land."
That promise is the hope of America and of all our people.
Because of my faith in that promise, I'm particularly pleased to be able to tell you today that this administration will soon submit to the United States Congress a proposal to amend our Constitution to allow our children to pray in school. No one must ever be forced or coerced or pressured to take part in any religious exercise, but neither should the government forbid religious practice. The amendment we'll propose will restore the right to pray.
I thank you all for coming here today and for the good work that you do for our people, our country, and our God every day of the year. But I also hope that I can count on your help in the days and months ahead as we work for passage of this amendment.
Changing the Constitution is a mammoth task. It should never be easy. But in this case, I believe we can restore a freedom that our Constitution was always meant to protect. I have never believed that the oft quoted amendment was supposed to protect us from religion. It was to protect religion from government tyranny.
Together, let us take up the challenge to reawaken America's religious and moral heart, recognizing that a deep and abiding faith in God is the rock upon which this great Nation was founded.
Thank you all again, as I say, for being here. And God bless you all.
Note: The President spoke at 3:08 p.m. at the ceremony in the Rose Garden at the White House. The ceremony was attended by leaders of religious and civic organizations and several Members of the Congress.
The invocation was given by Dr. Richard Halverson, Chaplain of the United States Senate.
Ronald Reagan, Remarks at a White House Ceremony in Observance of National Day of Prayer Online by Gerhard Peters and John T. Woolley, The American Presidency Project https://www.presidency.ucsb.edu/node/245616