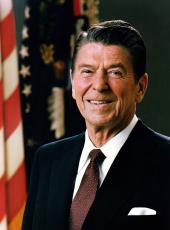 Remarks at a White House Ceremony Commemorating National Hispanic Heritage Week and Announcing the Nomination of Katherine D. Ortega To Be Treasurer of the United States
Thank you, and welcome to the White House. I am delighted to have this opportunity to kick off National Hispanic Heritage Week. Americans of Hispanic descent are rightfully proud of their heritage, and I hope this ceremony will draw the entire Nation's attention to the contributions of our Hispanic citizens.
For too long, the contributions of our Hispanic citizens have gone unnoticed, and I thought perhaps the best way I could note this occasion would be by reading the proclamation designating this special week, which I signed on August 25th. And let me read directly from it.
"National Hispanic Heritage Week pays tribute to a rich part of America's cultural tradition, offering all Americans a welcome opportunity to recognize the qualities and contributions of Hispanic Americans from earliest colonial times to the present. The dedication to principles of loyalty, patriotism, strong religious faith and devotion to family displayed by Hispanic Americans is basic to the American way of life.
"Hispanic Americans have played an important role in the development of our rich cultural heritage and every State has benefitted from their influence. They have distinguished themselves in the arts and sciences, education, industry, government and many other areas of productive endeavor. Indeed, they are a part of all that makes America great.
"Just as their forefathers sought a dream in the New World, Hispanic Americans have realized their dreams in our great Nation and will continue to do so. Their dedication to higher purposes reflects what is best in the American spirit.
"Through the years, Hispanic American citizens have risen to the call of duty in defense of liberty and freedom. Their bravery is well-known and has been demonstrated time and again, dating back to the aid rendered by General Bernardo Galvez during the American Revolution.
"Now, therefore, I"—and I say my name and so forth and the slogan or the proclamation—"President of the United States of America, do hereby proclaim the week beginning September 11, 1983, as National Hispanic Heritage Week in honor of the Hispanic peoples who have enriched our daily lives, our traditions and our national strength."
The concluding line is, "In this spirit, I ask all of our citizens to reflect on the sense of brotherhood that binds us together as one people." This was a proclamation I was very happy to set my hand to.
All over this great land, Hispanic Americans are contributing to our democracy, our economy, and our culture. And today, I'm very pleased to announce another contribution that an American of Hispanic descent will be making to this country.
Katherine Ortega, the youngest of nine children, is from New Mexico and the descendant of pioneer families who settled in that State during the 1800's. She is symbolic of the values the Hispanic community represents, and I am honored that she is to become a part of this administration. I intend to nominate Katherine Ortega to the post of Treasurer of the United States.
Katherine is currently serving as Commissioner of the Copyright Royalty Tribunal and was a member of the President's Advisory Committee on Small and Minority Business. She's a certified public accountant, served in a number of important capacities in the financial services industry. Of her many achievements, I might mention one in particular. As past president and director of the Santa Ana Bank, she was the first woman president of a California bank. So, you can see that she's being nominated not just because she is Hispanic, but because she is highly qualified.
As Treasurer of the United States, she will supervise over 5,000 employees, manage a budget of some $220 million, and serve as one of the key people of our management team, as Buchanan did before her.
I'm delighted by the increased participation of Hispanic Americans in all phases of the political process. Congressman Lujan here is a wonderful model for Hispanic people seeking to become involved in politics. And I'm very proud that my own administration has over 125 Hispanics already in positions and another 20 or 25 who soon will be. We've appointed them to positions that are not just traditionally Hispanic positions. Today, you will find Hispanics at the FCC and the CAB and all over government. They offer professionalism, and we intend to take advantage of that talent. And I look forward to the Hispanic community's sound values influencing the course of government and our nation.
And let me say wholeheartedly, nothing is a better influence on America than the strength and decency of the Hispanic family.
We need your participation and your beliefs to guide this nation, because the hopes and dreams of Hispanic Americans are the same hopes and dreams that founded this country. Become involved and help America become what we all want her to be.
I thank you for coming. God bless all of you. And now, Katherine?
Ms. Ortega. Mr. President, Mr. Secretary, distinguished guests, it is with a deep sense of joy, pride, and gratitude to my President, to my country, and my family that I am honored to be selected for nomination as Treasurer of the United States.
The Hispanic tradition of strong devotion to family is evident here today. I called my brothers and sisters 3 or 4 days ago to tell them about the event here this morning. There was no doubt in my mind they would be here to share this occasion with me, for our parents taught us, and we learned well, not only to work together but to help each other and to share and support each other. And so, I was very confident that they would be here to share this occasion with me.
Since 1928, when my father opened a blacksmith's shop in New Mexico, the family has been working together. For at that time my older brothers, who were then 8 and 10 years of age, were already helping my father.
I have often said I was born a Republican. I am the product of a heritage that teaches strong family devotion, a commitment to earning a livelihood by hard work, patience, determination, and perseverance. And in this great country of ours, it is still possible to achieve upward mobility and success through our economic, social, and political system. And our greatest American treasure is that as a people, we recognize the inherent dignity and worth of the individual human being.
Through his strong leadership and sound economic policies, President Reagan has ensured that this national treasure will flourish, that individual women and men can continue to succeed and progress through initiative, resourcefulness, and equal economic opportunity. And besides building economic stability, the policies of the Reagan administration have strengthened the family values, belief in each other and in God, which makes us the greatest nation in the world.
Over the years, I have been blessed with many opportunities and challenges. Today President Reagan and Secretary Regan are presenting the greatest opportunity to prove myself. I accept this challenge and look forward to working with Secretary Regan and the other fine men and women at the Department of the Treasury.
It is an honor and a privilege to be part of President Reagan's administration.
Note: The President spoke at 11:33 a.m. in the East Room at the White House.
Ronald Reagan, Remarks at a White House Ceremony Commemorating National Hispanic Heritage Week and Announcing the Nomination of Katherine D. Ortega To Be Treasurer of the United States Online by Gerhard Peters and John T. Woolley, The American Presidency Project https://www.presidency.ucsb.edu/node/245948