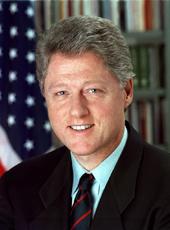 Remarks Welcoming President Nelson Mandela of South Africa
President Mandela, members of the South African delegation, distinguished guests, my fellow Americans, we are here to welcome Nelson Mandela back to the United States, but first, to the United States as the President of his nation.
Now, all over the world, there are three words which spoken together express the triumph of freedom, democracy, and hope for the future. They are "President Nelson Mandela." In you, sir, we see proof that the human spirit can never be crushed. For a half century, you pursued your ideals, keeping your promise never to surrender, risking all, despite danger. For 27 years, we watched you from your prison cell inspire millions of your people with your spirit and your words. And when you emerged, instead of retribution for past wrongs, you sought peace and freedom and equality for your people.
You are living proof that the forces of justice and reconciliation can bridge any divide. Every day, you teach the world that those who build triumph over those who tear down, that those who unite can actually prevail over those who would divide. Your presence here and the growth of a new South Africa are stern rebukes to both the destroyers and the cynics of this world.
The struggle in South Africa has always had a special place in the heart of America. For after all, we fought our own most terrible war here in our own land over slavery. And our own civil rights movement has taken strength and inspiration from and given aid to your fight for liberty. Americans take great pride in the role we played in helping to overturn apartheid and in supporting the free elections which produced your Presidency.
Now we are working with you to build the new South Africa. The challenges you face, poverty, joblessness, homelessness, the despair born of long years of deprivation, are as large as they are difficult. But we know you will forge ahead, and we know that we here in the United States will also be better for your progress. For a thriving South Africa, spurring greater prosperity throughout the region, opening new markets, that makes us more prosperous, too. And a stable and democratic South Africa, working with its neighbors to restore and maintain the peace, that makes us more secure as well.
And perhaps most important of all, in this age of ethnic, religious, and racial strife the world over, you can be our partner, and together our two nations can show the world that true strength is found when we come together despite our differences. We know and you know that diversity and progress can go hand-in-hand, indeed, that they must do so if we are to give all our people the chance to fulfill their Godgiven potential.
Mr. President, you have brought forth a new nation, conceived in liberty and dedicated to equality. Today the American people welcome you here, and we salute your stunning achievement. We pledge, as you have pledged, that we will walk every mile with you and that we will not grow weary on the way.
I say to all of you here, Nkosi Sikelel' i Afrika. God bless Africa. And God bless America.
NOTE: The President spoke at 11:15 a.m. on the South Lawn at the White House.
William J. Clinton, Remarks Welcoming President Nelson Mandela of South Africa Online by Gerhard Peters and John T. Woolley, The American Presidency Project https://www.presidency.ucsb.edu/node/218206