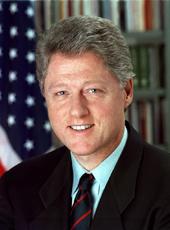 Remarks Welcoming Pope John Paul II in Denver, Colorado
Your Holiness, I think you can see from the wonderful reception you have received that the United States is honored to have you in Denver. I thank you for coming to Denver, to this historic gathering of young people from across the world.
I want to extend a special thanks to the cosponsors of World Youth Day, Archbishop Keeler and the National Conference of Catholic Bishops and the Pontifical Council for the Laity. I'm especially gratified that so many leading Catholic Americans could join us today. And I'd like to pay special tribute to one, my good friend, the former Mayor of Boston and our Ambassador to the Vatican, Ray Flynn. I also thank my friends Governor Roy Romer, Mayor Willington Webb, the members of the city council, and Congresswoman Patricia Schroeder, in whose district we now stand—or sit, as the case may be.
I want to thank the people of Denver who have opened their hearts and their homes to these young people and say a few words of appreciation, Holy Father, to American Catholics especially.
As the Catholic Church prepares to enter its third millennium, our Nation prepares to enter its third century. It is altogether fitting that such a young country would host World Youth Day. America has maintained its youth by always being able to change while holding fast to its fundamental values: a determination to support family and work; to the proposition that all children matter and we don't have a one to waste; to the proposition that in every corner of the world, race or creed should not deter any young boy or girl from growing up to the fullest of their God-given capacities.
Your Holiness, even though I am not myself a Roman Catholic, I was educated as a young boy by nuns and as a young man by Jesuit priests. And I might add, since we're in the business of paying compliments, I appointed a man born in Poland to be Chairman of the Joint Chiefs of Staff yesterday. But all Americans without regard to their religious affiliation are grateful to the Catholics of this country for the standards they have set for citizenship and service, for supporting their families and working well at their assigned tasks, and for caring about the less fortunate.
And all Americans without regard to their religious faith are grateful to you, Your Holiness, for your moral leadership. For we know that you were the force to light the spark of freedom over communism in your native Poland and throughout Eastern Europe, that you have been an advocate for peace and justice among nations and peoples, a strong voice calling for an end to hatred and to hunger everywhere and reminding people blessed with abundance that they must offer special comfort to the poor and the dispossessed. Your presence here is welcome. America is a better, stronger, more just nation because of the influence that you have had on our world in recent years and because of the influence that American Catholics have had on our Nation from the very beginning of our birth.
If we were to find one sentence that would sum up the Catholic social mission, the work that Catholics have done as citizens, it would be the great line from our only Catholic President's inaugural speech when President Kennedy said, "We must always remember that here on Earth God's work must be our own."
In 1987, Your Holiness, when you came to Detroit, you said that each of us must be instrumental in promoting a social order that respects the dignity of persons and serves the common good. That is what we must all be about. America today is striving to achieve that goal. We have many problems here, and we are trying to address many problems abroad. We dare not turn away from our obligations to one another. Your presence here today will remind us all of those obligations, of the values by which you have lived, of the causes for which you have worked.
I ask you now to come to this platform to welcome a grateful nation and many tens of thousands of young people from all across the world who are privileged to be in your presence here today.
NOTE: The President spoke at 2:45 p.m. at Stapleton International Airport. In his remarks, he referred to Archbishop William H. Keeler of Baltimore, president, National Conference of Catholic Bishops.
William J. Clinton, Remarks Welcoming Pope John Paul II in Denver, Colorado Online by Gerhard Peters and John T. Woolley, The American Presidency Project https://www.presidency.ucsb.edu/node/217745