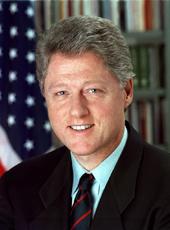 Remarks Welcoming Crown Prince Hassan of Jordan and Foreign Minister Shimon Peres of Israel
Good morning. I'm happy to welcome back to the White House both Crown Prince Hassan and Foreign Minister Peres. We've had a productive session today. Jordan and Israel have taken further and very specific steps on the road to building a warm peace between their two nations.
Almost exactly a year ago, Crown Prince Hassan and Foreign Minister Peres and I met to launch this trilateral process. What a difference a year makes. Since then, intensive bilateral and trilateral negotiations culminated just 2 months ago in the historic meeting I hosted here between King Hussein and Prime Minister Rabin when they signed the Washington Declaration and put an end to war between their two nations.
Since then, peace treaty negotiations have made considerable progress, and steps to implement the warm peace all three of our nations want have already been taken. Jordan and Israel have already opened a border crossing for citizens of other nations at Aqaba and Eilat. And trilateral discussions on tourism, communications, and economic development are proceeding.
These discussions take place at a time when the economic and trade barriers of the past are dissolving before our eyes. It's heartening that the Gulf Cooperation Council states, led by Saudi Arabia, have now declared that they will no longer enforce the secondary and tertiary aspects of the economic boycott and will support a move in the Arab League to end the primary boycott of Israel. Promoting trade, development, and cooperation, rather than restraining and hindering normal economic relations, should be the hallmark of the new Middle East, and Jordan and Israel are leading the way.
Today the Crown Prince and the Foreign Minister have reached agreement on a variety of issues that will help develop the Jordan Rift Valley, increase tourism, and assure future economic and social progress in the region. They have agreed to adopt basic principles to guide the future development of the Jordan Rift Valley, including projects dealing with the environment, water, energy, and tourism; to open a new northern border crossing for third-country nationals by October 15th; to establish a Red Sea marine peace park with assistance from the United States Government; to convene a conference on exploring constructing a canal between the Red Sea and the Dead Sea; to explore the establishment of a free trade zone in the Aqaba-Eilat area with a view to making it an economic hub for the northern peninsula of the Red Sea; to conduct, together with the United States, feasibility studies to expand the availability of water and to undertake joint financings of dams on the Yarmuk and Jordan Rivers to alleviate water shortages.
That's quite a lot of work for them in this session. They are solid evidence that Jordan and Israel have not only ended their state of war but are following through on their commitment to cooperate with each other and negotiate as rapidly as possible a final peace treaty. Our goal remains a comprehensive peace between Israel and all its Arab neighbors. We're hopeful that a breakthrough can be achieved in the negotiations underway between Israel and Syria and Israel and Lebanon.
In their ongoing talks, Israel and Jordan have looked to the trilateral discussions to help establish a comprehensive, lasting, and warm peace. The steps we announce today are the building blocks of a modern peace between these ancient lands. The United States is proud to be a partner and facilitator in this extraordinary endeavor.
Crown Prince Hassan and Foreign Minister Peres, on behalf of the American people and personally, let me say that I salute your vision, your courage, and your persistence. This has been a relationship that has meant a great deal not only to me but to all of us in this country because of the incredible openness that you have displayed and the creativity you have brought to these negotiations. I am grateful that the United States has been able to play a role in this process, grateful for the opportunity that we have had to try to facilitate an extraordinary coming together between two extraordinary nations and very extraordinary leaders.
NOTE: The President spoke at 10:52 a.m. in the West Lobby at the White House.
William J. Clinton, Remarks Welcoming Crown Prince Hassan of Jordan and Foreign Minister Shimon Peres of Israel Online by Gerhard Peters and John T. Woolley, The American Presidency Project https://www.presidency.ucsb.edu/node/218116