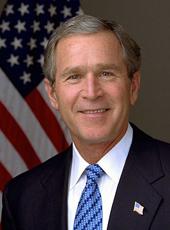 Remarks at a Welcoming Ceremony for Prime Minister Junichiro Koizumi of Japan
President Bush. Good morning. Laura and I are welcome—are proud to welcome and honored to welcome our friend Prime Minister Koizumi back to the White House. Japan and the United States have built a strong alliance and a close friendship. Decades ago, our two fathers looked across the Pacific and saw adversaries, uncertainty, and war. Today, their sons look across that same ocean and see friends and opportunity and peace.
The friendship between our two nations is based on common values. These values include democracy, free enterprise, and a deep and abiding respect for human rights. These values have created a better life for both our peoples, a firm alliance between our two nations, and a common approach to our engagement with the world.
These values are under attack by terrorist networks that bring death and destruction to all who oppose their hateful ideology, so the United States and Japan are working together to defend our shared values and win the war on terror.
Japanese naval vessels have refueled hundreds of coalition ships as part of Operation Enduring Freedom. Japan is now the third largest donor nation for reconstruction efforts in Afghanistan. In Iraq, Japanese Self-Defense Forces have helped improve the lives of citizens in a key Iraqi Province that will soon return to Iraqi control. And Japan continues to provide critical airlift support to coalition forces in Iraq. The people of Japan can be proud of the contribution their Self-Defense Forces have made in the war on terror, and Americans are proud to serve alongside such courageous allies.
Japan and the United States are cooperating to address other threats to our security. Our two nations are working together through the six-party talks, insisting that North Korea meet its pledge to abandon all nuclear weapons and its existing nuclear programs. Japan and the United States are also founding members of the Proliferation Security Initiative that is working to keep dangerous weapons from rogue states and terrorist groups. And our two nations are repositioning our forces to counter the emerging threats of the 21st century.
As we meet threats to our security, we're also working together to improve the lives of our people and address common challenges. Our two economies are the largest in the world, and we are working to expand trade and investment opportunities for both our peoples. Japan and the United States are working together for a successful conclusion to the Doha negotiations, which would add to the prosperity of our nations and help lift millions in the developing world out of poverty.
With prosperity comes responsibility. So our two nations helped build the Asian-Pacific Partnership on Clean Development and Climate, so we can make the latest energy technologies more widely available, reduce pollution, and increase energy efficiency.
Americans cherish our friendship with the Japanese people and value our alliance with the nation of Japan. And we honor the leadership of Japan's Prime Minister Koizumi. He's a man of vision; he's a man of integrity. And I'm proud to call him my friend. I thank the Prime Minister for coming to the White House. And I'm looking forward to joining him tomorrow at Graceland. [Laughter] Officially, he's here to see the President, but I know the highlight of his visit will be paying his respects to "the King." [Laughter]
Mr. Prime Minister, thank you for your leadership, and welcome back to America.
Prime Minister Koizumi. Good morning.
Audience Member. Good morning.
Prime Minister Koizumi. Our Japan children very good. [Laughter] You can learn both Japanese and English. In the future, it's useful to you all.
First of all, allow me to express my heartfelt gratitude to President Bush, the Government, and the people of the United States for putting on such a splendid welcome ceremony for me.
In Japan, I am known as "Lucky Man." And I feel that I am lucky in the United States as well. Look at this fine weather; I feel that this weather is also welcoming me.
I believe it is no exaggeration to say that over the past 5 years, there has been no world leader, alongside Mr. Bush—President Bush, among the world leaders with whom I have felt so much heart to heart, felt so deep a friendship and trust, and have cooperated with.
And I believe having personal and good relations between the two leaders is good not just for the two friends, the two of us. From now on, I'll engage in the discussions with President Bush on—as Japan and the United States are allies on various matters, not simply of bilateral relations but on the questions of how best we, our two countries, could cooperate together as allies in addressing various international issues.
I sincerely hope that my visit this time will enable our two countries to continue to cooperate and develop together and, as allies in the international community, make even greater contributions to the numerous challenges in the world community.
And in concluding, I would like to express my heartfelt wishes for further prosperity of the Government and the people of the United States of America.
Thank you again. Such a wonderful hospitality. Thank you.
NOTE: The President spoke at 9:11 a.m. on the South Lawn at the White House, where Prime Minister Koizumi was accorded a formal welcome with full military honors. Prime Minister Koizumi spoke partly in Japanese, and those portions of his remarks were translated by an interpreter.
George W. Bush, Remarks at a Welcoming Ceremony for Prime Minister Junichiro Koizumi of Japan Online by Gerhard Peters and John T. Woolley, The American Presidency Project https://www.presidency.ucsb.edu/node/216600