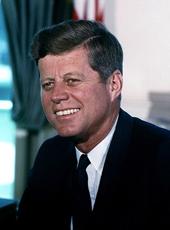 Remarks of Welcome at Union Station to King Hassan II of Morocco
Your Majesty:
It is a high honor to welcome you once again to the United States, and I am confident that your visit here on this occasion will be as fruitful and as beneficial to both of our countries as a visit of your illustrious father with my predecessor, President Eisenhower, several years ago. Though a wide ocean separates our two countries, they have been bound together throughout our history. Your country was the first to recognize the United States in the most difficult days of our Revolution.
Our first President, President Washington, sent our Constitution to your country in 1789 and from that day to the present the ties have been intimate in war and in peace. We are very proud to welcome you here, Your Majesty. Yours is a distinguished record as the leader of your country which occupies a position of strategic importance in the world, which occupies a position of increasing significance along the Mediterranean and along the Atlantic. For all these reasons we are particularly glad to welcome you here at the present time.
You will find, Your Majesty, that you come to a country which knows Morocco. A good many of our sons have fought there, lived there, in war and in peace, and we are proud to welcome you here on this occasion and we know that your visit will be beneficial to both of our countries and to both of our people.
Note: In his response (as translated from the Arabic) King Hassan expressed appreciation for the welcome accorded him. He stated that it was his people's strong desire to consolidate the friendship which had characterized the two nations' relations since "the dawn of the independence of the United States."
"My people," he added, "bent as they are on establishing and furthering close relations with all the nations of the world whether small or big, are pleased that I have come to visit this great country of yours and will follow with deep concern the progress of my visit here." He concluded by stating that his people were hopeful that the visit would prove to be a means for further understanding and closer relations between the two nations and that it "may usher in a new era of stronger ties in the field of true and honest and unselfish cooperation in their mutual interest as well as in the interest of the cause of freedom, peace, and human dignity throughout the world."
John F. Kennedy, Remarks of Welcome at Union Station to King Hassan II of Morocco Online by Gerhard Peters and John T. Woolley, The American Presidency Project https://www.presidency.ucsb.edu/node/237110