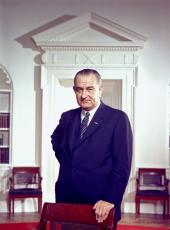 Remarks of Welcome at the White House to the President of Korea
Mr. President and distinguished, welcomed guests:
Mr. President, it is a very happy privilege for me to welcome you once again to this country and to this Capital City of Washington.
You have honored us by your presence on previous occasions. Today we are very proud to honor you, and through you, to honor the people of Korea, for the numerous and the notable advances made by the Republic of Korea.
The economy of your country is growing in strength. Progress is being realized in the life of your people at home. In the world, Korea's role and influence is broadening. And all of this is coming as your democratic institutions grow in stability and meaning under the leadership of representative civilian government which you promised for the Korean people.
These advances are deeply gratifying to us here in the United States, Mr. President. The bonds between your land and ours are close and lasting.
Fifteen years ago--in the wake of history's most terrible war--your people and our people, and all the peoples of the earth yearned only for peace. Yet it was at the great moment of hope and opportunity the enemies of peace drew their sword and plunged it into your land and into your people.
In the first moments of that dear and present challenge, the United States moved to stand at once at your side--and there, Mr. President, we still stand, our sons and your sons stand together guarding the peace today. The enemies of peace and the foes of freedom still move in the world now, seeking to impose their will by aggression and subversion. But their chance to prevail is a much lesser chance now because of the response that was made in Korea by those United Nations which showed a decent respect for the values--as well as the opinions--of all mankind.
We welcome this strength that your land offers now to the defense of freedom not only in Korea but in Viet-Nam as well, Mr. President.
We have given our commitments to the security of your land, and I assure you that those commitments are durable and continuing so long as danger remains. But we have committed ourselves beyond military concerns alone, and I assure you that we shall work steadfastly with you to better the lot and the lives of your people.
The central contest of this century is the struggle against mankind's oldest oppressors-poverty, hunger, illness, and ignorance. Korea is making progress in its struggle against these enemies and, Mr. President, we stand resolutely with you in your progress toward self-sufficiency.
All around the world, this is the work which the American people want us most to do--to help others help themselves toward lives of decency and justice and opportunity under peace and freedom. Whether the struggle be near to our shores or far away, our resolve is firm and our resources are great, our faith is unyielding and it is unchanging.
So, Mr. President, a group of distinguished Americans from all the Government are here this morning to welcome you to the United States, as a friend of the United States, as an ally and as a coworker in the building of a better world for all mankind everywhere.
Note: The President spoke at 11:52 a.m. on the South Lawn at the White House where President Chung Hee Park was given a formal welcome with full military honors. President Park responded as follows:
President Johnson, Mrs. Johnson, ladies and gentlemen:
I have just crossed the "Bridge of Friendship and Faith," which links our two countries across the Pacific, to come to Washington.
I am very happy to express my heartfelt gratitude to President Johnson for his kind invitation which enabled me to make this visit, and also to extend, in the name of the people of Korea, my sincere greetings to the American people.
During this visit I shall meet many of the distinguished leaders of your country and discuss with them various matters of our common concern. Thus our visit will, I trust, contribute to strengthening further the traditional friendly ties between our two countries.
It is well known that for a long time Korea and the United States have been bound together with a bond of friendship too strong ever to be broken. Our two nations have been making concerted efforts, in cooperation with other freedom-loving nations, and sometimes spearheading them, in seeking preventive measures against any untoward distress mankind may encounter. It is my firm belief that such relations between our two countries will never change, even in the remote future.
Along the truce line in Korea, in the jungles of Viet-Nam, your beloved sons and husbands now share the same encampment and trenches with our own men to defend freedom from Communist aggression. They are carrying out their common duty of safeguarding the free world from aggression of the Communists, the modern provocateurs of war.
In discharging this duty, there should be no optimistic appraisal of the international situation and no retreat based on easy rationalization.
I expect that through frank exchanges of views on those political, economic, and military problems related to the execution of our common task, might well result in further strengthening the existing friendly cooperation between our two countries.
Dear friends in the United States, this is my third official visit to your country, beginning in the fall of the year 1961, when my dear friend, now departed, President Kennedy, whom I will never forget, invited me to America. On each visit I came from a different Korea; that much has Korea been making remarkable progress with a firm national foundation based on the freedom and peace-loving spirit of the United States and of the United Nations. I am proud to say your support and assistance given Korea are now bearing fruit more successfully than at any time in the past and perhaps more successfully than anywhere else.
Thanks to the continuing friendly cooperation between Korea and the United States, and to Korea's own resources of youthfulness and effort for self-help, Korea is now developing into a country of righteousness and resoluteness. I wish to present Korea to you today as a new country packed with aspirations.
I affirm with pride that the Korean people are today as ever determined in our pursuit of social justice and to stand in Asia for freedom in alliance with the people of the United States.
Dear American friends, in closing, I wish to convey to you that your beloved sons and husbands in Korea are doing magnificent work, hand in hand with my fellow countrymen in uniform.
Again, I thank you for the warm welcome you have extended me today. Thank you.
Lyndon B. Johnson, Remarks of Welcome at the White House to the President of Korea Online by Gerhard Peters and John T. Woolley, The American Presidency Project https://www.presidency.ucsb.edu/node/241520