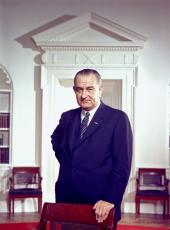 Remarks of Welcome at the White House to the New Prime Minister of Great Britain
Mr. Prime Minister, Mr. Secretary of State, distinguished guests:
Mr. Prime Minister, it is a pleasure to welcome you here today both to this country and to this house. For you and for me as individuals, positions and responsibilities have changed somewhat since last you were a visitor in this city.
But the relations between our countries and the common purposes of our peoples remain unchanged.
Your visit underscores the certainty that there will be no change.
Under Democratic and Republican administrations in this country, and under Labor and Conservative governments in your country, the collaboration between Great Britain and the United States has meant much of enduring value to all mankind, not only to our two peoples but also to our friends and our allies everywhere in the world.
Today we realize as surely all other nations must realize that the world has come to a beginning of a new era of change. It is opportune that at this formative period, early in each of our respective administrations, that we meet together to seek the basis of continuing responsible undertakings.
The problems of our Nation, the problems of all nations are many today. Yet, we can and we do justifiably believe that this is a hopeful time for man--the most hopeful since time began.
In all of history never has man had so great a capacity for ending war and assuring peace and bringing it to the world; overcoming poverty and laboring to that end; providing plenty; mastering the causes of human misery and enjoying the fullness of human happiness.
In confidence that our countries and our peoples with our allies have great contributions to make and great gains to realize, the progress of the years ahead, we meet now for a series of working sessions where we can begin together to explore the complex and the important problems that are facing us and our allies.
As we welcome you to our country, we welcome you and your countrymen to the continuation of this great work. May our labors help to strengthen the hope for peace and the cause of freedom as have the labors of our predecessors on both sides of the Atlantic.
As we stand here this morning in this beautiful sunshine in Washington, I trust that this is only the first of many meetings that will bring men who love peace and who hate war together in the hope that we can make a contribution to peace and freedom throughout the world.
Note: The President spoke at 11:25 a.m. on the South Lawn at the White House where Prime Minister Harold Wilson was given a formal welcome with full military honors. The Prime Minister responded as follows:
"Mr. President, Mr. Secretary of State, and members of both administrations:
"First, sir, may I on behalf of my colleagues and myself thank you for your warm and hospitable welcome to the United States.
"We are all of us happy to be back in Washington. None of us are strangers here. All of us have many friends, many personal friends of a quarter of a century standing here in Washington and in your administration.
"The talks on which we shall be engaged will be frank and straight to the point as befits talks between friends and as befits the size and the scale of the problems that we are facing.
"This is a first get-together in what I hope will be a series of discussions at all levels in our respective administrations, of discussions with our NATO allies and more widely, and covering as the talks now and later proceed a growing range of topics.
"We do not expect this week to solve the problems which the Western alliance, the free world, and the world communities are facing. Rather, we would hope to set the guidelines for our future joint attack on these problems.
"There could be no more challenging or exciting time for us to be meeting. We face urgent problems within our own alliance. For 2 years there have been growing stresses and strains which we cannot suffer to continue, much less to grow.
"We come here, Mr. President, to express the firm determination of Her Majesty's Government to do all in our power to strengthen our alliance and to make it more effective.
"We shall throw our proposals into the common pool of Western thought and we shall be prepared to make our full contributions in hard, real terms; in particular, in a shrinking world where traditional categories of thought and approach, whether in defense or in relations between peoples, are being daily rendered more obsolete through the central fact of thermonuclear power.
"We recognize the need by thought and by deeds to centralize and collectivize our common responsibility and concern in matters of nuclear strength.
"But I am sure that in a wider sense our discussions will transcend even the challenging situation within the alliance.
"We shall be seeking together all possible means to strengthen the work of the United Nations on which are centered our common hopes for the future of mankind; in particular, our joint contribution to its authority, to its peacekeeping role and to its role in the only war we seek--the war against poverty and squalor, illiteracy and disease.
"We shall be seeking now the means through agreed initiatives based on our common interests whenever the prospect presents itself or can be created for measures to reduce tensions between East and West and, in particular, to move decisively in the world of effective disarmament and measures to prevent the spread of nuclear weapons.
"Mr. President, we look forward to friendly and fruitful talks. We come here not in the posture of asking anything for ourselves; rather, that in asking what between us we can do to speed our common purpose.
"We in Great Britain know that our influence in the world depends on what we can contribute to that common purpose. We have on tap reserves of skill and craftsmanship of science and technology, of talent for design and production which, when encouraged to put forth their full power, as they will be encouraged, will delight our friends and surprise the world.
"As partners with the United States in war and in the task of building a new world out of the ruins of the war, we come here inspired with the experience of working with you.
"In the changed circumstances of the sixties, we seek still a closer relationship based on common purposes and common aims, on consideration for the interest of Great Britain's partners within the Commonwealth and of our allies in Europe and elsewhere.
"The theme of these talks, as I conceive them, Mr. President, whether for the strength of our alliance or for our wider approach to the fight for a constructive peace is expressed in the one word 'interdependence'--truly as among men so among nations we are all members one of another, and this, Mr. President, is how we approach these meetings. This, I believe, is the way in which the world would have us approach them for what is at stake here goes far beyond the interests of our two countries. What is at stake is the contribution that we can make to security and to peace for mankind."
In his opening words the President referred to Secretary of State Dean Rusk.
Lyndon B. Johnson, Remarks of Welcome at the White House to the New Prime Minister of Great Britain Online by Gerhard Peters and John T. Woolley, The American Presidency Project https://www.presidency.ucsb.edu/node/241486