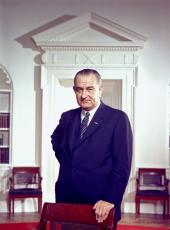 Remarks of Welcome at the White House to Prime Minister Holyoake of New Zealand
Mr. Prime Minister, Mrs. Holyoake, distinguished guests, ladies and gentlemen:
As you know, Mr. Prime Minister, a few days before the historic summit meeting at Manila in 1966, we visited New Zealand. You and your countrymen gave us one of the most heart-warming welcomes that we have ever received. Today it is our very great pleasure to reciprocate.
And so, here, on behalf of the American people, I take very great pleasure in welcoming you once again to our shores. This time we have a special welcome, too, for your charming wife.
It has been several years now, sir, since our nations have been joined in a harsh and a very difficult war in Asia. Your arrival here is an appropriate occasion to reaffirm, from the American point of view, just why we are involved in that struggle.
This Nation's course was set in 1964--and has been sustained ever since--by two very clear principles. The first principle was commitment. By resolution of Congress and by the clear declaration of the American people, we are a committed nation--committed to the causes of freedom and self-determination in many parts of the world-committed morally, committed by treaty, and committed by the clear logic of long term American self-interest.
The second principle was restraint. Our people have always been concerned to fulfill their commitments in Southeast Asia in ways which would justify no widening of the war by other nations.
In the latter half of 1964, the war in South Vietnam began to change character as North Vietnamese regular units were introduced into the South. In early 1965 it became clear that South Vietnamese boys or Asian boys could not alone hold the line in this Asian conflagration. And so, the United States and five Asian nations--including New Zealand--sent troops and materials to respond jointly to Hanoi's enlarged aggression.
Aggression was checked--but all restraint was used to try to limit the fighting--and every reasonable precaution was taken to try to contain the conflict.
So this joint effort by seven nations in South Vietnam has enabled that small and beleaguered country to rearm and to reorganize, so that they can increasingly carry the burden of this struggle. In the past 3 months alone, the South Vietnamese losses in combat have exceeded those of the United States by 24 percent.
Our struggle is not yet at an end, Mr. Prime Minister. But this much can be said, sir: It has never been clearer that the enemy will fail to force his political goals by military means. In that vital sense, aggression has suffered a clear and a significant defeat. It is significant, too, I think, that America's initiatives--as well set out in my statement of March 31--have opened the way for the aggressor to make peace. The nations and peace-loving peoples of the world have found it a positive invitation to deescalation and an honorable settlement of this conflict. We wait only for the other side to act with us, as all reasonable and humane men pray that we will act.
One day the war in Vietnam will end. No man can foretell when, but the day will surely come, and we work and we pray so that it may come soon. When it does come, Mr. Prime Minister, our nations will become more deeply engaged in another great struggle--healing the old wounds and building the New Asia where men of different races, cultures, and even ideologies can work together in peace and for progress.
That day, too, will come. When it will come we do not know, but when it does, it will be because New Zealand and the United States and many other nations in Asia have stood together, have prepared the way.
So this New Asia, already born, will grow to strong life and to splendid purpose. No one has worked harder to assure that day than you, sir, and the magnificent people that you represent.
So it is a very special pleasure for Mrs. Johnson and me to have you with us here in Washington and to have New Zealand in our hearts as we have for many, many years.
Thank you.
Note: President Johnson spoke at 13:45 a.m. on the South Lawn at the White House, where Prime Minister Keith Holyoake was given a formal welcome with full military honors. During his remarks the President referred to his address of March 31, 1968 (see Item 170).
Prime Minister Holyoake responded as follows:
Mr. President and Mrs. Johnson, Mr. Dean Rusk and Mrs. Rusk, your excellencies, distinguished guests, ladies and gentlemen:
Mr. President, I would like to thank you very, very warmly and sincerely for the warm welcome that you have extended to Mrs. Holyoake and me to the White House and to the great United States of America.
I have very happy memories of previous visits here and the hospitality extended to me and to my party on those occasions. As you have so rightly said, Mr. President, the United States and New Zealand have been long closely associated in many ventures. Our men have fought together in two World Wars, in Korea, and now together in Vietnam to uphold and defend the principles that you so admirably outlined as the right of men to live in their own way and determine their own way of life and their own form of government in peace.
Our two countries, together with Australia, our close neighbor, have for some years now been closely associated in the ANZUS Treaty,. We have cooperated in many spheres of common endeavor.
I believe, sir, as you have said, that today we are more closely associated and know each other better than we ever have in all the years that have gone.
I want to take this occasion to say that we in New Zealand have found no conflict at any time between our desire for friendship, alliance, and cooperation with your great country, and at the same time our expression of our own independent point of view in world affairs.
In various spheres, and perhaps more particularly in the United Nations organization, we consult and we have been able to cooperate closely together. This, as I have said, in many spheres and in many settings.
Our commercial tics of cooperation have increased and are increasing. Exchanges of tourists between our two countries have snowballed in recent years. And we, of course, have close cultural and educational exchanges. In sport, also, the picture is very much the same. Your industrialists have joined with ours and independently, in developing the industries of our nation and I know they will continue to, to a greater degree.
We are very happy to act as hosts to the headquarters of your Antarctic Operation Deep Freeze. Today our separate airlines span the Pacific and bring our two countries close together. I believe we have new opportunities for cooperation and understanding opening up before us, if we choose, as I know we will choose, to take those opportunities.
Nowhere is this more important, as you, sir, have highlighted, than in the present search for peace in Asia, and particularly in Vietnam.
You have echoed what is in my heart, that we both want peace and we want it soon.
Mr. President, I pay you the highest compliment and tribute in bringing the two sides together for talks to achieve this objective. I believe that in your search for peace you have made a gesture that will win and hold a very honored place in the history of your Nation, and indeed, of world affairs.
In this search--I appreciate, as a man who has served many years, as you have, in public life-you have turned away from the opportunity of further public office to clear the way for peace. All honor to you.
Perhaps it would be appropriate on this occasion for me to point out that probably no country in the world is better placed than New Zealand to be neutral and isolationist. We are 5,000 miles away from the nearest foreign country, Indonesia. We are nearly as far away from Saigon as Saigon is from Paris. It is quite natural, in our country, for some people to ask, "Why not lie low in our lovely and peaceful islands?" Some of our people ask, "What difference would it make in Asia if we in New Zealand made no longer any contribution in defense and economic aid?"
The simple answer, of course, is--and the people of New Zealand have given it clearly--that such a course would betray the oldest traditions and the deepest feelings of the people of our country.
I hope I can claim with justification that New Zealand--small as we are--that we have always pulled our weight. We have always tried to play our part not only in defending the Pacific and the free countries in other parts of the world, but, in our humble way, also to help people achieve independence and higher standards of living. And we intend, I assure you, to go on doing so.
Just as you have said, sir, we do this, I hope, from an enlightened self-interest as well because we realize that our own vital interest can be safeguarded only by working closely with our friends and allies and people who see life in the way we do.
In talking of friends, I ask how would small nations such as ours and many others enjoy their freedom if it were not for the assurance of the support and assistance that the Government and the people of the great United States of America provide.
I want to take this public opportunity here to affirm again that no country in all the world's history has given so generously and so selflessly of its wealth in material and men, as has this great country of the United States of America.
Mr. President, ladies and gentlemen, I value this opportunity to acknowledge the tremendous burden that is being carried by the people of the United States of America.
Ladies and gentlemen, I also value this opportunity, and I take it, to pay the highest possible tribute I can to the President, your first citizen, for I believe no man has been more concerned about what needs to be done in America, but no man in history has been more burdened by what has been necessary to do abroad.
Mr. President, you have truly known the ordeal of power and responsibility. Mr. President, I look forward to the discussions that you and I are to have over a wide spectrum of subjects today and tomorrow. I feel sure that they will add new scope and new weight to the ties which exist between the Governments and the people of the United States and New Zealand.
Once again, may I thank you most sincerely for your very warm and generous welcome, your warm references to the Government and the people of New Zealand. I warmly reciprocate them, particularly, with the memory in my mind which again you have sparked, of the reception, the spontaneous, warm, almost blazing reception of you and your lady when you came to New Zealand a few months ago.
Thank you again, sir, for your greetings, which I warmly and sincerely reciprocate.
Lyndon B. Johnson, Remarks of Welcome at the White House to Prime Minister Holyoake of New Zealand Online by Gerhard Peters and John T. Woolley, The American Presidency Project https://www.presidency.ucsb.edu/node/237275