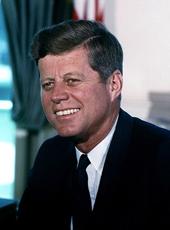 Remarks of Welcome at the White House to Prime Minister Fanfani of Italy
Mr. Prime Minister, I am delighted to welcome you back to the United States, to welcome back an old friend I have known for a great many years, and to welcome back the head of a distinguished and longtime friend, the Republic of Italy.
You come, Mr. Prime Minister, at a time which is particularly appropriate. The United States and Italy as allies, members of NATO, as members of the Atlantic Community, have a good many matters of common concern, of common policies to develop and coordinate in defense and economic policy and political matters. Indeed, all the subjects which go to the defense of the West and the defense of the free world properly concern the United States and Italy.
So we are delighted to welcome you here, Prime Minister, to a country which has had its oldest ties with you stretching back nearly 500 years, which has had a good deal to admire in Italy's long past but which is particularly struck by the modern miracle of Italy today--an economic growth rate which has been most astonishing, really, in Europe; a development of its balance of payments which has been almost unprecedented in the last few years; an attack on unemployment which has brought you wide success.
Italy is an ancient and also a most modern country and its modern renaissance is almost as extraordinary as its earlier one.
So we are delighted to welcome you, Prime Minister. You are the second distinguished Italian we have welcomed this month, and we are very glad to have you here.
Note: The President spoke at 11:15 a.m. on the South Lawn at the White House where Prime Minister Amintore Fanfani was given a formal welcome with full military honors.
In his response the Prime Minister began by emphasizing the unchanging character of the friendship and mutual acceptance of responsibility within the Atlantic Alliance between the two countries throughout 18 years of changing administrations in Washington and in Rome. He continued as follows:
"Within the framework of the United Nations, of NATO, the OEC, and the Common Market based on understanding with our allies and friends, facing menaces and threats to liberty, even participating in extending this understanding to thousands upon thousands and millions upon millions of men in Italy and the United States, we have provided for our own welfare, but not only this; we have also provided for a share based upon Christian principles and democratic commitments in seeking to bring into this fold of welfare all those who have thus in cooperation desired so to do, and we will continue to do so as far as we are concerned.
"In your recent State of the Union Message, Mr. President, you have reminded us of the continuing dangers, the new hopes and the necessary cautions that face us, but with a force that has also pointed out the opportunities and the commitments that 1963 may bring us.
"Here upon the threshold of the White House which within a few minutes we will cross in order to begin our conversations while we are here exchanging our greetings, allow me to say to you, Mr. President, and the representatives of the different countries who courteously are gathered together here on this occasion, through the press, and to all the peoples, that Italy once more wishes to render confirmation to the United States of its friendship and of its solidarity.
"Meeting the opportunities and assuming the commitments that 1963 may bring against all obstacles and persistent difficulties, we already march together for the millennium of peace of which you have spoken since 1961, thus marking this bold commitment that at that time aroused our admiration and today continues to maintain our admiration for you and your people in a mood of solidarity of the Government and people of Italy.
"To you, Mr. President, I wish to express my deepest thanks for your welcome and to God I should pray that He make our meeting at this time an efficient means toward accomplishing the welfare for our peoples and for all peoples on earth."
John F. Kennedy, Remarks of Welcome at the White House to Prime Minister Fanfani of Italy Online by Gerhard Peters and John T. Woolley, The American Presidency Project https://www.presidency.ucsb.edu/node/235887