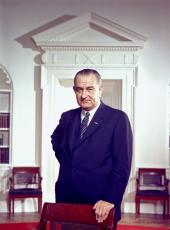 Remarks of Welcome at the White House to President Tombalbaye of the Republic of Chad
Mr. President, Secretary Katzenbach, distinguished guests, ladies and gentlemen:
It has long been said that Africa is a continent of forbidding majesty. Beside the vastness of her deserts, the sprawls of her forests, the thrust of her mountains, man seems frail and alone.
Yet there are men in Africa whose courage and whose understanding make the continent less forbidding--and more hospitable to human endeavor.
We welcome such a man here this morning. He brings the best of the old and the new--a heritage of strength that Africa has gained through struggle.
Under leadership like yours, Mr. President, Africa is opening to new purpose and is responsive to new development. The East African Economic Community is channeling natural cooperation between neighbors. The nations of West and Central Africa are striving to build a similar foundation for their joint development. The African Development Bank has now made its first loan. The Chad Basin Commission--where your nation plays such a very prominent part, Mr. President--is another part of the important regional cooperation that is gaining strength today in Africa.
The United States is proud to have a role in be!ping Africans. We know there is no single pattern to regional progress. The United States, as much as any African nation, wants to see African solutions to African problems. We know, too, that the blessings of this cooperation go far beyond economic returns. Working together for the common good strengthens common understanding, which is mankind's firmest hope for peace in the world.
But peace is not the only end; it is also the necessary condition of human progress. The agony of Nigeria has torn at the conscience of all the world. We know, Mr. President, how long and how hard you and your colleagues--OAU [Organization of African Unity]--have worked to find a way to try to stop the bloodshed in that stricken land.
Yet the agony goes on. The true test of the common will--for Africans as for all men-is perseverance in securing peace. The United States will continue to support your effort to bring an end to the fighting in Nigeria. We have responded promptly to the international call for the humanitarian relief on both sides of the battleline. We stand ready to do more to relieve the suffering of innocent men, women, and children.
To heal the Nigerian tragedy and to build the future of the entire continent, Africa must have men of good will and men of rare vision. So it is a very great honor for Mrs. Johnson and me to welcome one of those men to our own country here today. I look forward, Mr. President, to sharing your wisdom on the great issues of 'peace and progress which concern us both so deeply.
Thank you for coming here.
Note: The President spoke at 11:40 a.m. on the South Lawn at the White House, where President Francois Tombalbaye was given a formal welcome with full military honors. In his opening words he also referred to Nicholas deB. Katzenbach, Under Secretary of State.
President Tombalbaye responded in French as follows:
I want to thank you most sincerely for the very warm welcome--receiving me and welcoming me here--which you have spoken for the Chadian delegation and for myself, words which you have spoken with the sincerity that I admire so much in you.
Your great Nation which receives me here today is for me, and for the Chad Nation as a whole, the living symbol of a dear, durable, and profound yearning of mankind throughout history, the yearning for liberty.
Over and above this liberty, which is our common reason for living, you have ceaselessly searched for freedom for peoples, whatever continent they belong to. My official trip to you here today is, therefore, placed under the symbol of these considerations I have just outlined.
Chad knows and has feelings of esteem for the United States of America. That is why, on behalf of the people of my country, in my own name, Mr. President, Mrs. Johnson, and ladies and gentlemen, I want to express to you personally my feelings of friendship and trust. Long live the friendship between our peoples. Long live the United States.
Lyndon B. Johnson, Remarks of Welcome at the White House to President Tombalbaye of the Republic of Chad Online by Gerhard Peters and John T. Woolley, The American Presidency Project https://www.presidency.ucsb.edu/node/237324