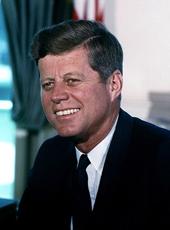 Remarks of Welcome at the White House to President Betancourt of Venezuela
Mr. President:
It is a great pleasure to welcome you and Madame Betancourt to Washington and especially here at the White House. Mrs. Kennedy and I remember with great pleasure your generous welcome to us and the welcome of the people of your country, not only in the City of Caracas, but also in the countryside where we visited one of the housing projects which have been the center of your interest and which have meant so much to your countrymen.
I take particular pleasure in welcoming you to this country. You represent all that we admire in a political leader. Your liberal leadership of your country, your persistent determination to make a better life for your people, your long fight for democratic leadership not only in your own country but in the entire area of the Caribbean, your companionship with other liberal progressive leaders of this hemisphere, all these have made you, for us, a symbol of what we wish for our own country and for our sister republics.
And the same reasons have made you the great enemy of the Communists in this hemisphere. It is no accident that you and your country have been marked number one in their efforts to eliminate you and what you stand for and the progress that you represent. If we can demonstrate in this hemisphere that through democratic means, through progressive means, that we can solve the problems of this hemisphere then, of course, this battle will be won.
It is to that central task that you have addressed yourself not only during the years of your presidency but during the long years of your exile and in your political work throughout your life. So, Mr. President, you come at a time most opportune. We value your counsel. We value our association with you in these critical days in the hemisphere.
And we stand with Venezeula, we stand with you, in the fight for freedom during these great days of the sixties. So, Mr. President, you are a welcome guest. We are honored at your presence and are particularly glad to have with you the members of your family. We want you to know that in welcoming you, we hold out the hand of friendship to the people of Venezuela.
Note: The President spoke at 11:30 a.m. on the North Portico at the White House. In his response President Betancourt stated that the thousands of men and women who lined the streets of Caracas and other cities on the occasion of President Kennedy's visit in December 1961 showed that when the peoples of Latin America are spoken to in a spirit of democracy and of understanding of their economic and social needs, they will respond with a great expression of friendship.
"I feel deeply moved," President Betancourt continued, "in coming back to Washington after so many years of absence ... I almost thought that from the helicopter I caught a glimpse of the small house that I lived in on Belt Road here in Washington where I spent 3 of my exiled years.
"Those years that we spent here in Washington in that house gave us great opportunity to share a great deal of friendship with the democratic people of the United States and to be the object of their very warm hospitality. I come here, Mr. President, with my advisers to discuss, as a friend and ally, with the President of the United States and his advisers, the problems that affect our two countries and the problems that affect the economy of Venezuela.
"I have not come here to ask for any contributions from the American taxpayer, but I have come here to discuss the problems which affect the economy of my country. And I feel certain that the United States Government, represented by President Kennedy and his advisers, will be receptive to any possible solutions that might be mutually favorable to our two countries.
"I also have come here to discuss with President Kennedy other problems that affect our two countries in the field of international policy, especially the problems created coming out of the Caribbean and extending to the whole Hemisphere, the problems created by Soviet infiltration in this area and, therefore, in the Hemisphere.
"Not only myself and yourself, Mr. President, but many governments of Latin America are dedicated, together with their friends in the free world, to the defense of the values of our civilization, the democratic and Christian values, that inspire all of us. And we are all striving toward this great task, to create and maintain a life devoted to democracy and freedom for our peoples.
"Thank you very much, Mr. President. It is a great pleasure to be welcomed by you here in Washington."
John F. Kennedy, Remarks of Welcome at the White House to President Betancourt of Venezuela Online by Gerhard Peters and John T. Woolley, The American Presidency Project https://www.presidency.ucsb.edu/node/236975