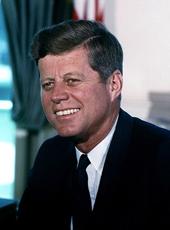 Remarks of Welcome to the President of Liberia at Washington National Airport
Mr. President, it is a great honor to welcome you and the members of your government here on a visit to Washington and the United States.
You have occupied a position of the highest responsibility in your country since 1943, a record unprecedented at this time any place in the world. You are the only surviving political leader of those days long ago during the days of the Second World War.
You have come on many occasions to the United States, and you come again on this occasion at a time of great change in Africa, a time of great progress within your own country. You, Mr. President, are a symbol of stability and also of change, and it is a particular pleasure to welcome to this country the leader of a country with which the United States has enjoyed the closest and most intimate relations stretching back over a century, to welcome a leader who has been identified in his own life and in his own country with the great causes of freedom and progress and well-being of his people. And therefore, Mr. President, I welcome you to the United States once again. I express particular pleasure in having you here at this time and in having an opportunity to discuss with you the great changes which are occurring in Africa and throughout the world. With your long view, your long experience, you are a most welcome guest.
Mr. President, the people of the United States once again wish to join in welcoming you to our country.
Note: President Tubman responded as follows:
Mr. President, the fact that you have extended us an invitation to visit you and your great country at a time like this, a time of crisis, a time of tension, is reassuring and another manifestation of a century old friendship and intimacy that has existed between our two countries from the time of our incipiency as a nation until the present.
Through the years we have identified ourselves with your system of government. Our own Constitution was patterned after that of the United States of America, and that immortal document was written and prepared by one of your fellow countrymen, Mr. Greenleaf, and I could go on for many hours showing the cordial and very friendly close ties that have existed between our countries.
I am very happy to be here. As you well said, I have come here on several occasions, and particularly now that I know the burdens and responsibilities that you carry, it is a great expression of affection, not for me so much as for my country, of which I am particularly proud and grateful.
John F. Kennedy, Remarks of Welcome to the President of Liberia at Washington National Airport Online by Gerhard Peters and John T. Woolley, The American Presidency Project https://www.presidency.ucsb.edu/node/235203