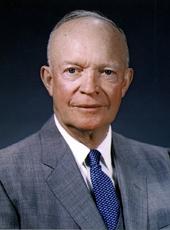 Remarks of Welcome to the King and Queen of Thailand at the Washington National Airport
Your Majesties and members of our visiting party from Thailand, and friends:
Your Majesty, it is indeed a great privilege to welcome you to this country. The record of the friendly relationships between our two countries is a bright one, and it is therefore with unusual pleasure that we welcome here in this country the head of that nation.
You will find, sir, in all parts of this Nation a similar readiness to bid you welcome and to express their friendship for your fine country in southeast Asia. We sincerely trust that the journey that you make through our country will be for you and for Her Majesty, the Queen, very interesting and enjoyable, and indeed we hope to some extent instructive, as you will learn more of our country and of our people and of their way of life, just as visitors to your country learn about yours.
So, sir, again welcome to you and to Her Majesty, and our very best wishes for an enjoyable stay in our Nation.
Thank you.
Note: The President spoke at 12 noon. King Bhumibol Adulyadej responded as follows:
Thank you so much, Mr. President, and thank you for the kind words you have just spoken now, and for the rousing welcome you have given us. In fact, we have arrived in this country when we set foot on the island of Hawaii, just on the 14th, and then to California and to Pittsburgh. Everywhere we received a very friendly welcome. So we are all very grateful to you, Mr. President, for making this visit possible.
And before coming on this tour, I had told my people the object of such a state visit; that is, when we are friends, between friends and relatives we like to go and visit each other, for the ties of friendship; but now, with nations, it is quite impossible for the people of each nation--24 million of them--for my people to come and visit your 190 million people in this country. So I have to come as the head of state and as their representative.
That is why I am here, and the people understood very well. The day we left Bangkok they gave us a very big send-off and they showed by that they were quite ready to give me support and to give their good will. So now, as the representative of my people, I bring to you as the representative of the American nation the greetings and the good will of the Thai people.
Both countries have had long and very happy relations for a long time. That is because we have the same convictions. We say that we cannot have happiness without freedom and independence. Since we have been here we have seen many similarities. Among the similarities, in dress--ordinarily, privately, the Thai people don't like to dress too formally, they like to be easily comfortable, as you people do. And between meals we take snacks, as you do. But the difference is in the food--you have popcorn, you have hot dogs and ice cream. Oh, that is very good. We have noodle soup. And we have pickled fruit. So among the differences we have many similarities. And especially in the train of thought; that is, we like to live simply. And above all, we like freedom.
Now this visit is something more for me personally. In Thailand we say--we call the motherland the land of our birth, the land where we live (the King spoke in Thai). I was born here in this country, so I can say that the United States is half my motherland. This visit is somewhat of a sentimental journey, and this I feel with quite genuine emotion in coming back here. I say, "coming back here." I never say "come" or "go" to the United States. I say return to the United States. All that emotion gives me the conviction that our visit here will be of great use for the strengthening and reinforcement of the bonds of friendship which have existed for a long time already between the United States and my country.
So I thank you once again, Mr. President.
Dwight D. Eisenhower, Remarks of Welcome to the King and Queen of Thailand at the Washington National Airport Online by Gerhard Peters and John T. Woolley, The American Presidency Project https://www.presidency.ucsb.edu/node/234970