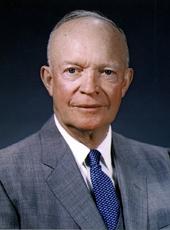 Remarks of Welcome to the King and Queen of Denmark at the Washington National Airport
Your Majesties and friends:
It is indeed a pleasure to welcome to Washington the King and Queen of Denmark. Their country, like our own, is a member of the NATO alliance, standing to defend the security of their countries and the freedom of their people and of all those others of the alliance, and as a great bulwark against the loss of freedom in any other section of the world.
This is a country I have visited during my different tours of duty in Europe and found it hospitable and its people always courteous and ready to help.
I learned something of the country there, but I learned far more about it from one of my oldest friends who was born a Dane and came to this country--I think he was 14, Your Majesty. But he has been a great citizen of our country and one of my warmest and oldest friends. from him I have learned more about your people, and I have found that he is typical of their worth to this Nation--their industriousness, their readiness to cooperate with others, their ability to adapt themselves to our customs and to our practices.
I feel that while all of our own people and your people feel a great kinship among themselves, for me I have achieved through this companionship and this friendship of this individual and his family and his friends an especially warm feeling of sentiment toward your nation and its people. So I feel almost as if I can speak for my friend, Aksel Nielsen, in saying we are especially glad that you two have come here to honor us with your visit. We express the great hope, Your Majesties, that even, as you say, you have found on part of your trip that you have already accomplished something interesting and instructive, we hope that it will continue to be interesting and enjoyable until the day you leave our shores--a day, I assure you, we shall regret.
So again, sir, welcome to Washington and to this country.
NOTE: King Frederik responded as follows:
I thank you, Mr. President, very much for this heartwarming reception at the outset of our visit in Washington.
First of all, I should like to thank you, Mr. President, for your and Mrs. Eisenhower's invitation to the Queen and me to visit your country. We have now been here 7 days and have visited Los Angeles and San Francisco and Chicago. Everywhere we have been received with unsurpassable hospitality and friendliness, and our experiences have been many and unforgettable.
We have been looking forward to this moment when we would meet again with you and Mrs. Eisenhower, whom we feel are close and true friends of Denmark. Our past experiences in a common cause and the present wholehearted cooperation between our countries within many fields, form a solid foundation for a verity and a real friendship--a friendship that is shared by the Danish Government and by the Danish people, from whom I bring you warm and sincere greetings and best wishes for the future of your country.
I thank you.
Dwight D. Eisenhower, Remarks of Welcome to the King and Queen of Denmark at the Washington National Airport Online by Gerhard Peters and John T. Woolley, The American Presidency Project https://www.presidency.ucsb.edu/node/235528