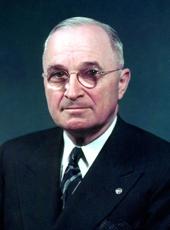 Remarks of Welcome to Princess Elizabeth and the Duke of Edinburgh at the Washington National Airport
It certainly is a very great pleasure for me as President of the United States to welcome you to the Capital of our country.
On behalf of the Government and the people of the United States, I bid you a most hearty welcome.
I think your visit will improve--if that is possible--the cordial relations that exist between our two great countries, and I hope that while you are here you will have a very enjoyable time.
I was most happy to hear that the King had recovered so promptly, so that you could make this trip. I remember with a great deal of pleasure the visit of the King and Queen while I was in the United States Senate. It happened to be my privilege to be presented to them when they held a reception at the British Embassy here.
I also had another very pleasant visit with the King on the Renown in Plymouth harbor, when I was on the way home from Potsdam. He had me on the Renown for luncheon, then he returned the call on the Augusta, and we had a most pleasant visit and conversation on world affairs as it affected Great Britain and the United States. I hope while you are here that you will get a chance to see a great many of our people. I am sincerely sorry that you can't go from one end of the country to the other as you did in Canada, and let everybody in the country have a chance to get acquainted with you, because Margaret tells me that whenever anyone becomes acquainted with you, they immediately fall in love with you.
She had a most pleasant visit in England, and I hope that we will be able to make you feel as happy as she was when she came back home from there.
Note: The President greeted Princess Elizabeth and the Duke of Edinburgh at 4:07 p.m. at the Washington National Airport. Princess Elizabeth responded as follows:
"It is a very great pleasure, Mr. President, for my husband and me to be visiting you here in Washington. During our trip through Canada, I heard much of the warm goodwill felt by the people of the United States towards the people of Canada, and I am glad that before sailing for England we are to have this chance of seeing at least some of the country with which the whole British Commonwealth has so many friendly ties.
"I know it is never possible to understand a country as great as this by visiting only its capital, even such a splendid one as Washington. But so much of the history of the United States has been enacted here, so many memorials of your national achievement stand here, that I hope before I leave to see a little deeper into the sources of your great strength.
"Free men everywhere look towards the United States with affection and with hope. The message that has gone out from this great capital city has brought hope and courage to a troubled world.
"In that other proud capital where I live, and in Canada from where I have just come, we also are determined to work with all our strength for freedom and for peace."
Harry S Truman, Remarks of Welcome to Princess Elizabeth and the Duke of Edinburgh at the Washington National Airport Online by Gerhard Peters and John T. Woolley, The American Presidency Project https://www.presidency.ucsb.edu/node/231224