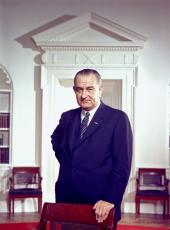 Remarks of Welcome to Prime Minister Gandhi of India on the South Lawn at the White House
Madame Prime Minister:
We are very glad that you are here. I feel very privileged to welcome you as the leader of our sister democracy. I have even greater pleasure in welcoming you as a good and gracious friend.
Someone has said that all pleasure is edged with sadness. Only 2 months ago we looked forward to receiving your gallant predecessor here in our Capital in Washington. We share your grief in his sudden and untimely death.
We are reminded that three American Presidents--Abraham Lincoln, Woodrow Wilson, and Franklin D. Roosevelt--were similarly stricken while engaged in that most demanding of all public tasks, the task of working the hard passage from conflict back to peace. It is good to know that this task which Prime Minister Shastri had so ably begun is now in your strong and sympathetic hands.
Our thoughts also go back to the visits of another great Indian leader, those in 1949, 1956, and 1961 of your late father. Few have ever held a larger place in the hearts of the American people, and few ever will. We like to think, Mrs. Gandhi, that he belonged to us, too.
My countrymen and yours will be asking what we shall talk about during these next few days. Perhaps, with your permission, I may say just a word about that now. I think they can be reasonably sure that we will not be wasting any of our time.
Our concern will be with very practical questions. I look forward to getting your thoughts, Madame Prime Minister, on how peace can be obtained or made more secure, in Asia and throughout the world. I shall seek your counsel on the problems of Southeast Asia, where India, under the Geneva Accords, has for so long played such a special role.
I will speak of my deep desire, which I know you share, for the continued improvement in relations between India and her great sister nation, Pakistan. The United States values deeply the friendship of both India and Pakistan. Nothing, we know, is more painful or more costly to all concerned than a falling out between one's friends.
I shall look forward, Mrs. Gandhi, to getting a better understanding of the urgent economic and social problems with which your Government is now concerned. I will welcome that frankness and candor and detail that always mark conversations between good friends.
Economic stability and political tranquility depend on how well we accomplish commonplace tasks: the production of food, its transportation, the supply of fertilizer, family planning, electricity for farm and village, the realization of economic growth and opportunity.
We shall be concerned with these essentials. The solution of these problems lies, we know, with the Indian Government, but the United States believes in backing the efforts of those who are determined to solve their own problems. We know, Madam Prime Minister, that India under your leadership will have such determination.
We want to learn how we can best help you and how our help can be used to the very best effect. Your people and ours share the conviction that however difficult the problems there are none that a strong and a vigorous democracy cannot solve.
You have long been aware, Madam Prime Minister, of the fascination that Indian culture holds for Americans. This extends from the Hindu epics to the modern Indian novelists, and from the painters of the Ajanta Cave and the Ak Bar Court to your brilliant film producers of the present day. I venture to think that there is much about the United States that your students find equally interesting. Before our conversations end, I hope to be able to announce an imaginative new step to encourage and to facilitate these common interests.
Well, so much for our work in the days ahead.
I hope there will be time for something more. For Mrs. Johnson and our daughters and I look forward to renewing an old friendship, to matching, if possible, in warmth and spirit your own hospitality in the years past.
Let me say once more how much we appreciate your making this long journey at this busy time to visit us here in the United States.
I think I speak for every American when I say that we are very proud and very honored to have you today as our guest in this country.
Note: The President spoke at 11:10 a.m. on the South Lawn at the White House, where Prime Minister Indira Gandhi was given a formal welcome with full military honors. During his remarks he referred to former Prime Ministers of India Lal Bahadur Shastri, who died in January 1966, and Jawaharlal Nehru, Mrs. Gandhi's father. See also Items 149, 152-154.
Prime Minister Gandhi responded as follows: Mr. President, Mrs. Johnson, Your Excellencies, ladies and gentlemen:
I thank you, Mr. President, for your warm words of welcome and for this gracious reception to me. I have had the privilege and the great pleasure of visiting America many times. Each visit has been an education, an enlarging of the circle of friends, and a deepening of understanding.
I come today as a friend, and I bring with me the greetings and good will of the Indian people.
Mr. President, you have visited India with Mrs. Johnson. We have very pleasant and happy memories of that occasion. You are known in India not only as a great President of a distant country, but as a man of high idealism and a warmhearted friend who has come to our help in a time of need.
You have mentioned your interest in peace, Mr. President. We in India are greatly interested and concerned about peace, for to us it is not only a question of an ideal, but one of very practical necessity to give us time and opportunity to deal with those other problems and questions which you have mentioned; that is, to be able to develop our country, to give opportunity to our own people to stand on their feet, to deal with the many obstacles and difficulties which a long-standing poverty has imposed on us.
I am grateful to you for your kind invitation. As I meet you again, I recall your moving words on the theme of poverty. Declaring unconditional war on the pockets of poverty in your own country, you have said, "We want to give people more opportunity. They want education and training. They want a job and a wage. They want their children to escape the poverty which has afflicted them."
May I say, Mr. President, that important as these words are for the American people, they cannot mean as much to them as they do to us in India who have so long been denied the very basic decencies of life. We know that in our own war on poverty we have a noble friend, one who believes that the distant sufferer is his own brother.
India and the United States cannot and should not take each other for granted or allow their relations to drift. As friends committed to common ideals, they can together make this world of ours a better place in which to live.
Mr. President, may I express my gratitude not only for the welcome you have given me, but for the kind words which you have said for my father and our late Prime Minister, Mr. Shastri. I know how greatly Mr. Shastri was looking forward to his visit here. I hope that I shall be able to fulfill what he had in mind and what he had hoped to do.
Mr. President, may I greet you and the American people on behalf of the people of India.
Lyndon B. Johnson, Remarks of Welcome to Prime Minister Gandhi of India on the South Lawn at the White House Online by Gerhard Peters and John T. Woolley, The American Presidency Project https://www.presidency.ucsb.edu/node/239475