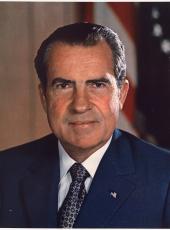 Remarks of Welcome to President Suharto of the Republic of Indonesia
President Suharto, Mrs. Suharto, Your Excellencies, ladies and gentlemen:
Mr. President, we welcome you very warmly to the White House and to Washington on this occasion, your first visit to the United States.
We welcome you first because you come from a great country, a new country, but the third most populous nation in all the free nations of the world.
We welcome you secondly because of the leadership you have provided for your country, leadership which is devoted toward producing that progress which will go to the people of the country and not just to its leaders.
We welcome you also because of the role you and your government have played and are continuing to play for peace in the Pacific. The recent conference at Djakarta1--a conference which was a splendid example of Asian nations attempting to find solutions for Asian problems---this conference is one that we have noted, and we know that it will contribute to the cause of peace and security for all nations in the Asian area.
Finally, Mr. President, we welcome you because we know that the slogan of your country is "Unity in Diversity," which is somewhat similar to the slogan of our country. As we think of the world in which we live, a world of different peoples, different races, different religions, different philosophies, we realize that we cannot find answers to all the differences. We will not always be all the same, not either among peoples or nations or within a nation, but we can be unified on those great principles that really matter--the right of all people to be free, the right of all people to be independent of foreign domination, and the right of all people to live in peace.
Unity in diversity--on these great principles the people of Indonesia, the people of the United States, I believe all the peoples of the world, are truly united. We welcome you most warmly.
1 The Djakarta Conference of Foreign Ministers of 11 Asian nations was held on May 16 and 17, 1970, at the invitation of president Suharto.
Note: The President spoke at 10:12 a.m. on the South Lawn at the White House where President Suharto received a formal welcome with full military honors. See also Item 165.
President Suharto responded in Indonesian. The text of his remarks, as read by his interpreter, follows:
Mr. President, Mrs. Nixon, distinguished guests, ladies and gentlemen:
We thank God Almighty that my wife and I and my party have safely arrived in this great country, the United States of America, in response to your gracious invitation.
I am deeply touched by your kind words and the warmth of your welcome today.
This is indeed my first visit to your great country. But my acquaintance with America and with its people is not new. In fact, slightly less than a year ago I had the singular honor of welcoming you, Mr. President, in Djakarta, on a visit that regrettably had to be very short. I am very grateful, therefore, for the opportunity this visit provides me, not only to deepen our personal friendship but also to immerse myself, however briefly, in the ways of life and culture of America and its people.
Apart from being a return visit, the main purpose of my coming here today is a simple one, although of profound significance to me and the Indonesian people. It is to convey, on behalf of the Indonesian people, our sincere gratitude for the support you extended to us in those moments in our history when friendly assistance was needed most.
The friendship between Indonesia and the United States has existed for a long time, in fact since the birth of the Republic of Indonesia. It is a sincere friendship which does not seek anything specific in return. To us, friendship with the United States is not a matter of convenience or expediency but a question of fundamental orientation and of affinity of basic goals. And I hope that our visit today will reiterate this friendship.
I am sure that our two countries have, and probably will continue to have, different perspectives in our view on many world issues. However, we do share the common aspiration to strive for a better world in which man of whatever race, creed, or political belief can live in freedom and dignity, relieved from the terrible scourges of poverty and ignorance, oppression and war.
I am also aware of the big problems the American people are facing at present, and of the process of reordering of national priorities through which you are going. As a friend, we understand the difficulties you are facing and appreciate your efforts to overcome them.
Let us hope that this visit may also serve to contribute useful ideas. For a profound study of each other's problems in order to arrive at a common understanding, based on our respective principles and potentialities, is most essential for the strengthening of a more concrete and meaningful friendship.
Mr. President, my visit comes at a time when the need for sincere and realistic efforts in the interest of peace and Stability in the world, and in Southeast Asia in particular, has become ever more pressing. The restoration of peace and stability in this region will require the combined endeavors of all countries of the area as well as of those external powers having a responsibility in the maintenance of world peace.
It is for all these reasons that I look forward to having a frank exchange of views with you, Mr. President, and with other leaders of your country.
It is my sincere hope that this visit will contribute to the strengthening of friendship between our two countries and peoples, which I am sure will be useful in solving the problems we are both facing, as well as the world in general.
Thank you.
Richard Nixon, Remarks of Welcome to President Suharto of the Republic of Indonesia Online by Gerhard Peters and John T. Woolley, The American Presidency Project https://www.presidency.ucsb.edu/node/239772